Bolivia - fuel sir ? let's negotiate!
. . . . . . . . . . . . . .

Oct 19th to 29th November 2012
We spent a month in Bolivia . . .well actually we spent 34 days there and thus overstayed our visa. Fortunately, in this, the least expensive country we've yet visited the fine amounted to about a fiver. Technically we still owe them for one day as we didn't have enough Bolivianos left . . .they told us we could pay for the extra day when we next enter!!!!
Many travellers who have gone before had "warned" us about this landlocked country, we found most of our preconceived fears to be unjustified.

Firstly, there's the fuel dilemma. We were warned that it was nigh on impossible to obtain any diesel whatsoever in this country if your vehicle had foreign plates and even if you did find someone willing to break the rules and sell you some precious fuel, that it would be hideously overpriced-at least three times what the Bolivians pay. Well the truth was somewhere in between. We had of course taken the opportunity to fill all of our tanks before leaving Chile and these some 180litres plus should have seen us a good way through, so we weren't really too worried. Anyway, this is how it went:
1st fuel station (Potosi) We were approached by a forecourt attendant as we dithered by the entrance wondering how much we would have to pay. "Would you like to buy fuel senor?" Hmmm, well this didn't seem so difficult. And yes he did let us fill our 100l back tank and yes, we did negotiate the price down from 9.3 Bols to around 6 Bols. What this fuel cost actually represents is about 70p a litre, not too expensive-especially after Chile. But what many tourists fail to understand is that the fuel itself costs 9.5 Bols-but the Bolivian Gvt have kindly subsidised the cost to its Nationals-thereby reducing it to about 3.5Bol. So what we have to pay is the proper price-well, less a little depending upon how "greedy the forecourt attendant is (after all the extra is lining his own pocket!) So it really isn't too bad at all. In fact we rarely failed to negotiate down whenever we needed fuel and the only real difficulty was when there actually wasn't any to be had-by anyone!
The second myth about travelling in Bolivia is that they really, really don't like and furthermore, don't want tourists . . of any nationality. On all but one occasion we found this also to be untrue. We were generally treated with shy courtesy and occasionally with downright friendliness and helpfulness. The only exception was when we strayed up off the beaten path into "hillbilly" country. We were approached by two rough looking (inbred???) guys who firmly placed their large and threatening hoe(?) on the front of the truck and began to negotiate our "price" to enable us to leave. Despite my having doled out a packet of biscuits-we firmly refuse to give cash on any occasion, they became more heated and aggressive in their tone. The solution? Well Phil just hit the pedal and we drove "through" them, though unfortunately the road meant that we couldn't turn and go back down into the town. Our only option was up and up . . . and up! By the time we reached what we thought was a safe distance we were in the clouds at over 3800m on a very steep rough track. In theory this track would be a shortcut out to a relatively major road, via the jungle. It was a lovely drive down through the cloud forest the next morning but just 12kms short of the road we hit a major snag. A landslip had made a small bridge a non-negotiable-it just wasn't worth the risk. So we turned around, drove back up to the summit where we'd slept and back down through hillbilly country. The scary folks were nowhere to be seen fortunately but they had thoughtfully "blocked" the road with some big rocks and a snarl of barbed wire! An incident to forget? -there are crazies in every country and I suppose we've been lucky not to meet too many!
We crossed the border from San Pedro (Chile) and followed the "Southwest Circuit"whichcovers some astonishingly scenic, rough tracks skirting colourful lakes freckled with flamingos. It remindedus very much of Mongolia though we saw very many tourist-filled Landcruisers. We even got to find a couple of great thermal pools to enjoy all to ourselves. From here we headed to the stark, brilliant-whiteness of the Salar D'Yuni where we'd narrowly escaped sinking into obscurity. It was getting quite late in the evening and we planned to park near one of the "Entry ramps" to the Salar and probably too hastily tried to follow some old tracks which crossed the perimeter. Unfortunately they were only tracks of much faster, lighter Landcruisers and not meant for our 4.5T plus. We came to a sticky halt!

After assessing our situation we decided to wait until the following morning before attempting to dig ourselves out but just as we were about to head for a bed a guy from a nearby hotel, who had spotted our lack of movement, came over to check on us. He offered to come and help the following morning and bring some "stuff" with him.
Around 10.30 a.m. the following day, he arrived with a bootload of rocks, shovels and planks of wood also with his rather younger wife and brother in law. Thus began the epic task of digging out. It went something like this:

Jack up wheel one (use wheel nuts to jack up on)

Fill hole underneath with stones and hard salt-crust

Repeat for other 3 wheels

Drive one metre

Get stuck again . . . .

Repeat this process at least three more times.
We were getting nowhere with this. So, after lunch of soup kindly carried over 4kms by sister-in-law the guys went back to hotel for more "stuff". They returned with a large, strong piece of canvas tarpaulin and more planks. Phil explained to them that we had to try a different tactic, i.e. instead of trying to drive out at speed, to only move a metre or so, remove sand mats etc from back of wheels and place in front. Going was very slow but gradually we turned and edged back towards firm ground. All credit to our new friends but after eight solid hours of digging and moving rocks and heavy planks, Phil finally put his foot down and we were free!!! We were invited back to their hotel to park for the night and were treated to a large mug of hot coffee and a chicken sandwich (hmmmmmm!!)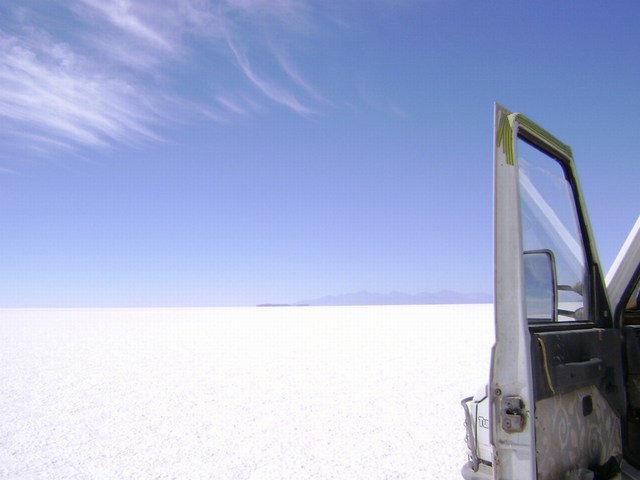 The Salar proper, when we finally got onto it via the correct ramp, was stunningly beautiful. The perfectly flat, startlingly white salt flats stretch almost as far as the eye can see. Curiously the salt crust forms irregular hexagons and so the whole effect is somewhat surreal. Unlike the perimeter though, if you stay within the black tyre marks of previous vehicles, the crust is solid and so we could camp almost anywhere.
Sunglasses are definitely a necessity here though!
Detouring east to the pretty, white city of Sucre we availed ourselves of copious amount of fresh fruit, vegetables, French baguettes and home-made cheese from the colourful market. We managed to get some new fibreglass on the roof too-which would be very useful in the rainy season ahead of us.
Then we drove a circuitous route which took us through the mountains and the "Cordilleira"-most of which was above a breathless 3800m. Then down, down, down –a road which only descends for about 130kms until it reached the lowest point of 400m. Now we were back in the jungle. Rough road-side stalls pedalled mangoes, avocados and hands of baby bananas for peanuts (not literally- though you could buy those too!).
Phil's been considering doing some volunteer work for an animal rescue sanctuary and we thought we'd pay them an initial visit now-to check them out. We arrived, coincidentally along with several other "newbies", willing to give of their time (and money!) to help with the rescued animals of Bolivia. The institute is NOT set up as a zoo and therefore you don't get a tour of their charges, but as a visitor (which we were) it's possible to take the steep trail up to a mirador and if you're lucky you'll meet some of the escapees or re-habitulised creatures. In any case we saw plenty of monkeys-both Cappuchin and squirrel monkeys-the latter being the shyest but cutest. We were to have further encounters with the Cappuchin kind in the car park where we were camped.
We'd been warned about "Boogieman" the allegedly rather naughty monkey who frequented the car park-but just how bad could it be-he's only a monkey!. We were soon to find out otherwise the following morning as a clunk (monkey lands on roof) was followed by a paw appearing through our partly opened window. Watching him shading his eyes as he peered in through the now firmly closed window was quite funny-for a while. Eventually we made a break for it with our coffee, to sit on a shady bench some few metres away-we no longer had sight of naughty monkey-which was a shame because if we had we would have realised that he was at that very moment breaking-and-entering! The little bugger OPENED the truck door (no mean feat) leaped inside and stole our camera which was lying on the bed. He then proceeded to scale the nearest palm tree and taunt us with it!! The camera was found several hours later but by then he'd managed to remove both the batteries and the SIM card. Furthermore-the camera, which we'd found in the first place, was now damaged beyond use.

We spent a couple of days at IntiWara Yassi and were convinced that they certainly are trying hard to look after their animals and the volunteers work their socks off. But boy oh boy-was it hot-especially as we couldn't dare to leave the truck windows open.
The morning we left Inti Wara to head back towards La Paz, the roads were quiet . . VERY quiet. We drove for a couple of hours and realised that we hadn't seen a single other moving vehicle. When we reached the toll gate just before the next large town there was a long line of stationary lorries. "Strange" we thought, but we did our usual trick and overtook them all to reach the front of the line.
We were politely but firmly stopped by a policeman. It was the day of the Bolivian Census which we should have known about as the indigenous population had been protesting for weeks before by burning tyres in the road in order to cause as much mayhem as possible. The actual Census meant that ALL traffic was halted for a whole day. After waiting patiently in line for several hours a friendly policeman approached us with his pile of forms. It was clear that we were about to be included in the statistics. He completed his paperwork with our details (nationality, age, whether we were employed, could we read and write and did we have health insurance). We politely obliged with a smile!!!
Finally on our way after seven hours of patiently waiting we headed off for a small detour around Cochabamba and la Paz. We ended our sojourn into Bolivia in Copacabana (not the famous Brazilian beach) camped alongside Lago Titicaca-the World's highest navigable lake. It's undoubtedly very pretty and the waters are a lovely sapphire blue. It's a bit of a shame about the amount of plastic that covers the little stony beaches though.
We are often reluctant to do "tourist stuff" mainly because of the cost but we couldn't resist visiting Isla del Sol, reputedly the place of birth of the Incan Empire. The return boat ride of approx 2 hours each way was a mere few ££'s so we couldn't use that as an excuse for not visiting. The Isla is gorgeous and reminded us very much of the Turkish coast, having rocky inlets of turquoise blue water over white sand beaches. The hike across the island is little more than 10kms but at over 3800metres, you can't do it quickly. Along the hike are several small Inca relics-a few scattered buildings and altar stones etc but the main reason for the hike is to enjoy the natural beauty.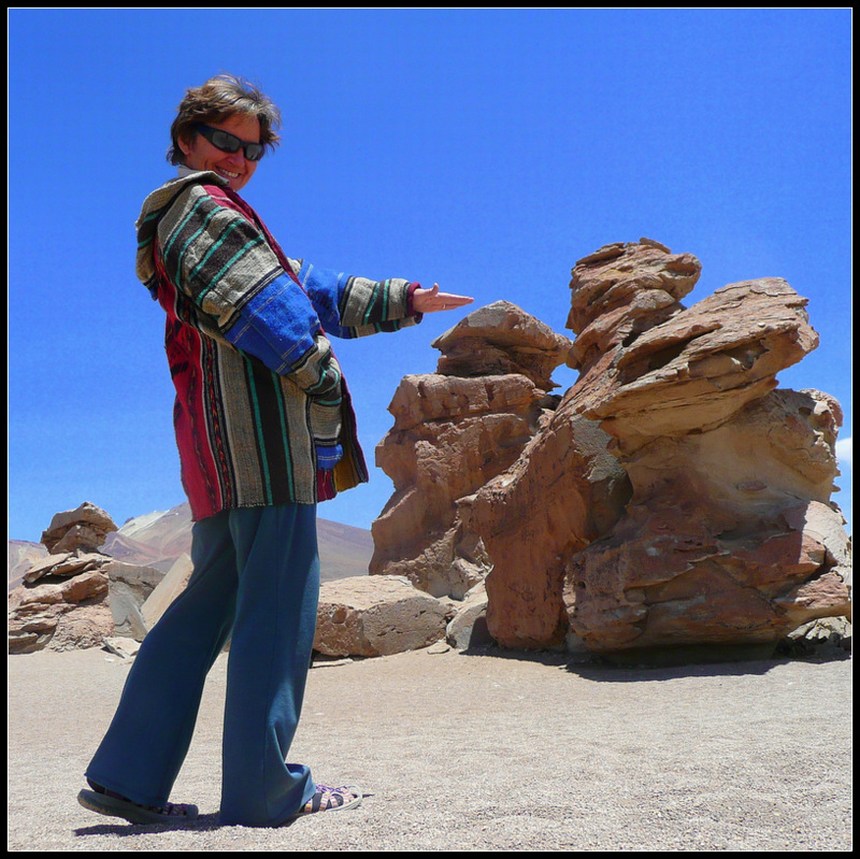 Back on the mainland, we sat in the Plaza and witnessed one of those sights that make this travelling life-style so rewarding- the town priest "blessing" vehicles (previously gaily bedecked with bunches of gladioli and paper-garlands). A great ceremony and much noise from firecrackers surrounds this occasion. Should we have had the truck blessed? Well I'm not sure that she really needs it-she rolls as sweet as ever!
B
olivia- a country of hugely diverse, magnificent scenery, very pleasant climate, shy but mostly friendly people and our cheapest yet! Though that may be because there is much less available to buy . . .unless you want an alpaca sweater of course!!!
end.