Peru - inca and more . . .

Nov 30th to 30th December 2012
The first hundred or so kilometres on Peruvian soil follows the shores of Lago Titicaca. Though the lake is still pretty, the flat farmland that it borders, is less so.
Our first scheduled visit was the Inca tombs at Sillustani. The slight diversion off the main road proved most interesting for two reasons: firstly the houses are very different. They were no longer the rather boring, single-level adobe but stone-built complexes of little round buildings around a gated courtyard. Each and every one sporting a pair of ceramic bulls attached to the thatched roof.
We parked on the football field next to the museum as it was getting dark but within half an hour the security guy turned up to inform us that we would be "safer" parked just by the museum and that he would gladly give us a night-time tour (for a small fee!)which we did.
The unusual tomb towers were the first of intricate Incan stonework that we would see, though there were some tombs that pre-dated the Incan ones. The whole site is large and overlooks a lagoon in a lovely setting and it took us a couple of hours to ramble around the site.
As we drove back to the main road the following day we happened upon some village festivities which involved a whole lot of colourfully dressed ladies swirling their skirts, a group of children dressed as monkeys and quite a few inebriated guys. Oh the weird stuff we see!!
At the end of the lake we made a brief stop to visit the renovated British steamship the Yavari. The YAVARI was delivered in pieces by mule to the Lake over two miles (3,810 m) above sea level. After nearly 100 years of faithful service, she was found slipping rapidly into decay. Now she has been saved, all her original features restored, her engine repaired, and she is getting ready to be fitted out to comply with today's standards of safety in order to sail again. http://www.yavari.org/
Originally we hadn't planned to visit Arequipa but having spoken to some fellow travellers who had recommended it, we decided to make the detour. It proved to be a lovely city, the buildings in the centre almost entirely built of the white volcanic stone called silla. Our favourite visit was to the gorgeous convent of Santa Catalina which is almost a small village in its own right. The walls are painted in vibrant blue or warm terracotta and the little narrow passages filled with pots of scarlet geraniums. The former nun's cells were a revelation and surprisingly spacious and cosy. They even had their own kitchen areas. There are still nuns inhabiting the convent but nowadays they have their own, secluded newly built areas.
We also took the opportunity to visit Juanita. Juanita is the famed mummy of the young Inca girl who was sacrificed atop a volcano and was found only fairly recently by a mountaineer due to the snow thawing. Her well preserved body had become detached from the ice and had become visible. The museum presents some of the artefacts that were found later and an interesting video tells the alleged tale of how she would have travelled with the priests from Cusco, climbed the volcano to over 5000m and then probably have been sedated before being despatched with a blow to the head. Her body is now in a glass, deep-freeze cabinet and though it's under very low lighting it is still possible to make out her features, hair and even fingernails. Quite spooky and extraordinary really.
A rough mountain road and a rather scary river crossing took us north from Arequipa to Chivay, the little town at the end of Colca Canyon.
Famous for its great profundity –they say it's deeper than the Grand Canyon and for its Condors, Colca Canyon is indeed impressive. Furthermore there were several excellent spots along the canyon where we could wildcamp AND get great views of the mountains and the gorge itself. Apparently it was once possible to witness dozens of the great birds riding the thermals over the gorge but sadly numbers have dropped alarmingly. The most we saw at any one time was six or seven but they are truly impressive birds and when one landed on a precipice just a few metres away, we were very delighted.
As we returned to Chivay after several days of bird-spotting, we happened upon another festival.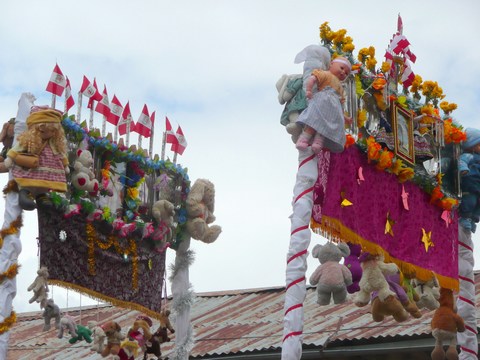 Five metre high bamboo arches now filled the plaza, gaily decorated with silver serving trays and stuffed toys of everydescription.A brass band played a rousing, if rather monotonous tune and hundred, yes hundreds of locals sashayed around the square in the most exquisite indigenous costumes. Such a shame it was pouring with rain that they had to protect their fabulous hats with plastic bags!
And so to Cusco . . . which at a breathtaking 3700metres, is probably one of the world's highest cities. We camped above the city –adding further metres at the traveller-famed Quintalala alongside a French family and a German couple.

From the top, the city has a look of an Italian city with its earth coloured buildings and terracotta tiled roves. As you wander around the winding and very steep streets it's possible to encounter original Inca walls of carefully mortised stone. It's definitely a city of tourists and it's almost impossible to avoid the touts selling trips to Machu Picchu or massages but it's calm and safe and has plenty of good cafes to take a break from the sight-seeing.
We visited an excellent museum of Pre-Columbian art and whilst it was mostly ceramic pots, the collection was so well curated and presented that it gave a fascinating over-view of the development of some amazingly well preserved artefacts.
After a few days of being a tourist (there are one or two good museums and examples of Inca walls) and re-stocking our food cupboards we were ready to head off along the Sacred Valley and made plans to visit what would probably be our last iconic tourist hot-spot in South America . . . Machu Picchu.

The Sacred Valley stretches out some 140km from Pisac to the Hidroelectric station above Santa Theresa and of course follows the course of the sacred river el Rio Urubamba. We wove our way through the less attractive, tourist deserted streets of Cuzco to reach the major highway that leads on to the road that runs right through the valley but we made our first stop at Moray.
Moray is a bit of an enigma. Definitely Inca-built but very different from most of the Inca ruins scattered around this area in that it is a deep, hollow which has been carefully and neatly terraced so as to form perfect concentric circles as it rises. No one really knows why it was built this way but it's been suggested that it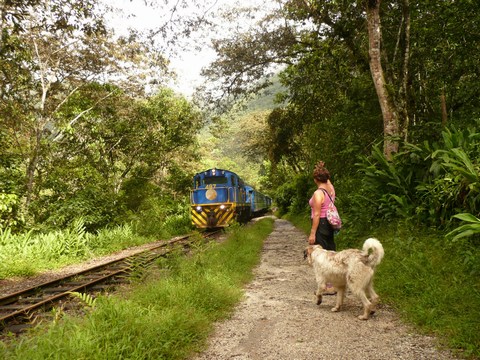 was some sort of Inca research station for growing crops within slightly different conditions. It was a peaceful place to camp overnightand enough exercise to stretch our legs the next morning.

We were very surprised to find that our path (or most of it) was lined with asphalt and so were able to make good progress. We were not hampered by landslips that we'd heard had delayed travellers the previous week but as we mistakenly took an old road after Santa Maria, it was necessary to drive into the dark-something we never normally do. However, we reached the Hydroelectic station safely by around 8p.m.
At precisely 6.45a.m. the following morning we set off to "walk the line" to Aguas Calientes. Yes, we could have taken the train, but as it was a dead flat, 10km walk, we preferred to walk it. It was a gorgeous walk, very jungly and though hot there was plenty of shade from the severe sun. We were accompanied by a rather handsome, stray dog from the village who wanted nothing more than our company for the day.
Reaching Aguas Calientes (there is no road to here) we went off in search of our ticket and we were happy to be able to buy one for the same day (not always the case). Then off to find the bus that would wind, up, up and up through some serious switchbacks to the site itself.
The first sight that the tourist gets of Machu Picchu as he enters through the main gate is the familiar one of many photographs. However, that doesn't make it any the less breathtaking as he sees it for himself.
It is awesomely lovely, perhaps because of its setting amidst a crown of much higher mountains, or perhaps because it blends so harmoniously with those surroundings. It is much more "whole" than we expected too. We overheard various guides, some saying that it was only 5% renovated, some saying it was more like 20%. We had seen some copies of the National Geographic pics submitted by Hiram Bingham and they certainly gave the impression that it was much more of a ruin and obviously very overgrown. Also, the entire site is much greater than the part that the photos show. It is possible to climb up (there's that nasty UP word again) to the Sungate, a steep walk of maybe 40-50 mins, or to the Inca bridge –another 30minutes. We were happy to stroll through the upper terraces, enjoy the terrific views whilst we ate our picnic and then wander down through the steep streets which link all of the parts. Sadly we had a heavy shower around 2p.m. and the illuminous light faded so our last hour or so was spent under the umberella. I'm not going to give lengthy, historical details here . . .there is far better information available than I can provide but we had fascinating time exploring its labyrinthine passageways.
True to form Phil was keen to walk down the mountain, not take the tourist bus. The walk was steep but pretty and some of the corners of the switchbacks were avoided by taking the stone steps. It took around 45minutes to reach the bottom and the railway track from whence we would begin our return journey.
Two and a wee bit hours later we were back at the truck-pretty exhausted but happy that we had visited such a beautiful and iconic place. And of course we had managed to do it within OUR budget-no pricy trains for us (which would have cost at least $200) and only one bus fare! We slept very well that night!
The following day we drove the rough track which leads to the thermal pools just beyond Santa Theresa. We weren't expecting too much as we are so often disappointed by our search for the perfect pool. We were not disappointed this time. The entrance is a bit scruffy and temporary looking-we later learned that the whole place had just been rebuilt as it was destroyed by a landslip a few years ago. However, the pools themselves are large, sparklingly clean and that perfect temperature which is so hard to achieve in a bathtub. I was actually able to swim-properly swim, though the warmth of the water seems to make your body quite sluggish. Heaven . . and all for about £5.
Phil wanted to stay overnight so that we could sneak in again after dark, but we decided that we should probably drive as we had arranged to visit a friend of a friend who owned a hostel just a few kilometres away.
When we arrived at Yellow River, we were greeted by Maya (the stunningly pretty daughter of Andrew and Tati) who solemnly informed us that mummy and daddy had gone up to the farm and that Grampa was "somewhere around". We retired to the truck for a cuppa whilst we waited their return.

Andrew was a colleague of my great and good friend Rose. His wife is Peruvian and her family own an organic coffee farm here in the Sacred Valley. Originally we had suggested that we stay as volunteers for a couple of weeks but circumstances had changed for them and they were having to temporarily close the hostel. We were, they said, very welcome to visit and stay as tourists and so this is what we did. It's a gorgeous spot, right down by the raging river but still at around 1200metres. The gardens are full of tropical plants, bananas, mangoes and avocadoes and the brightly-painted, modern buildings are very cosy and welcoming. Andrew took some of his precious time out to show us the old village that had been entirely destroyed by the river flooding a few years before and then drive up the mountain behind them to show us the coffee plantation and their new building plot. Along the way we lopped down bananas, gathered pineapples and were shown wild turmeric and various other weird healing plants. It's such a shame that they have to shut down for a while as they were just getting a name for themselves and what they are doing, both for themselves and the community, is wonderful.
We left the hostel amidst throngs of children who were being given their annual treat –we think provided by the local communities/gvt. Every child in the village received a cup of hot chocolate and a special bread roll studded with dried fruits. That's Christmas for Peruvian children-none of the plastic and batteries that nourish British children!!! As we drove along the valley that day we witnessed this happening in every community, the children dressed in their Sunday best, occasionally carrying new and precious small toys.
We continued the return route over the high pass (4800m) and down the steep switchbacks back to Ollantaytambo where we parked for the night in the spacious bus car-park.
The sun shone brightly the following morning and we set off to explore this pretty little village, overlooked by some seriously imposing Incan ruins. We breakfasted on the train platform, busy with tourists and locals. The locals carrying huge bags of . . .well just about everything and the tourists in their appropriate costume of bush hat and zip off trousers carrying neat backpacks and water bottles and on their way to Machu Picchu. The coffee and the chocolate brownies were very good too!
We later wandered the narrow streets watered by tiny canals. Ducks played happily and noisily in places and if it hadn't been for the rain coming in, we could have strayed further and longer.
Christmas was coming . . it was Christmas Eve and so we decided that we would drive to the final point of the valley and spend Christmas day in Pisac. We had arranged to meet up with an Australian couple whom we'd first me when they appeared , driving through the dust towards us in Mongolia. It was lovely to see both them and their IVECO! We spent a few hours chatting and catching up on forward-travel plans before they had to leave to visit the ruins just above where we were parked.
Christmas day dawned bright and sunny. We parked near the centre of Pisac and wandered lazily through the colourful, knitwear and artefact laden stalls. There were few tourists about and the whole place felt very laid back and when we finally found the funky "Blue Llama Café" we lunched on soup and pancakes. Phone calls to loved ones were successfully made and a hunt to find the perfect pestle and mortar was also successful. A lovely way to spend Christmas 2012!
end.