. . . . . . . . . . . A F R I C A
South Africa(again!) & Swaziland. Oct to Dec 2016
- - - - - - - - - - - - - - - - - - - - - - - Back in Africa (finally). 27th Sept 2016.
Khotso . . . . . . . . . . . . . . again ! . . . .. . . . .
So here we were, back again at Khotso horse farm which we left over six months ago.
It had been an eventful six months in Europe, with some HelpX in Asturias, more kilometres walked of the Camino, helping parents to relocate into a bungalow, a few weeks with Javi, Jasmine and Emeric in our favourite place in Spain and generally catching up with much missed family and friends.

.......... ...
. . . . . . .
We had some jobs to sort out . . . .. . . . .
Clean out the truck - (mice again !)
Replace the shock absorbers.
Repair the fridge (or replace)
Renew our carnet.
And of course plan the forward journey.
But in the meantime we also enjoyed the convivial atmosphere and pleasant climate of Khotso and I
took charge of feeding and caring for a succession of orphan lambs.
We also took time out to do some hiking in the lovely Garden Castle N.R. And at nearby Cobham, where we even got to do a quick plunge into an icy pool. I also found a great yoga class and got to do a horse ride, though that didn't actually end so well !
A few days before our planned departure, a huge, red Iveco arrived.
This truck turned out to be an ex french fire truck, an iveco 80-14 originally from 1988. The owners turned out to be the lovely Dutch couple, Vera and Bert, their adventures had only recently begun and the 4 of us really kind of hit it off, maybe it was the 'IVECO' badges !
The impressive truck has a double cab and a nice fresh built box on the back, overall it is about the size of a UNIMOG, however, the thing that impressed Phil was their ability to fit in a container, their box can be lifted off the truck chassis and the two seperate entities can then squeeze into a 40' high cube container. Now this was very interesting for us, since purchase we have debated whether iV2 fits a container, Phil continually said 'yes', I however, continually doubted. Tape measure in hand we confirmed that Bert n Vera's box was 5mm wider than iV2 - - - result; we will fit into a container (phil was right).
Finally, we tore ourselves away and headed east towards Pietermaritzburg where we hoped to buy our new fridge and fill up the LPG gas tank.
Happily we succeeded in doing both. We bought a 66 litre, twin compartment SNOMASTER , refilled the tank from Autogas SA ( neil@ autogas.sa ) and we got our yellow fever inoculations from the Tropical Doctor in Durban.
A word about gas; gas bottle re-filling is the norm here as opposed to bottle exchange as in Europe. The standard fitting here is a slightly different thread and so European bottles cannot be used without an adapter (we had one turned for us in Namibia on first arrival), so, gas bottles and bottle refilling, with gas sold by the kg is available everywhere. The problems arise if like us you have an on board, built in tank (LPG tank), two problems, first the need of an adapter and second the fact they sell gas here by kg and not by litre.
Engine LPG conversion has not really caught on here, and thus no network of pumps exist. It is not easy finding LPG here sold by litre, possible yes, but not easy. We filled in capital city of Namibia, Windhoek and after a lot of searching managed to locate Neil who supplied us from the only LPG pump here in South Africa's Durban.
As they say here, "eeeeeishh, what a missssion".
Our first campsite became a very surprising find. We had taken too long buying the fridge and so just looked for the nearest camping, T4A suggested Albert Falls Nature Reserve, on arrival we entered and wound our way for about 5 or 6 kms down to the lakeside campsite, observing some rather significant fencing en-route. iV2 and us were the only ones there but we were joined by a variety of impressive wildlife, nothing too dangerous and completely free to roam (as were we). Expecting an overnight camping we had discovered a private gamepark, full of antelope, tessabes and a few zebra and giraffe and yes we were the only campers. AND on the drive out we were very lucky to spot the park's three rhino, right by the side of the road! (Having spent about 2 hours searching for them in the trails and undergrowth).
Over the next few days, onwards and upwards we rejoined Vera and Bert(remember the big, red, Iveco fire truck ? ) and found some pleasant, if a little old fashioned Caravan parks at which to stay.
Our two trucks then commenced a leisurely wander around the parks of this corner of South Africa; Kwazulu Natal or its more common name of 'Zululand'.
First up :
HLUHLUWE-IMFALOZI G.R l ( pronounced . . . 'shluwe shluwee' )
We visited this park three times. On our first full day we were lucky to see plenty of rhinos and a lioness, sitting calmly just 20 m from the edge of the road.
Day 3, despite Phil'S insistence that we would see more if we got up REALLY early, it proved to be a misty day with little visibility. We did see plenty of rhinos again later in the day however, ending the count at I think 28 !
We camped at Bushbaby Lodge, which was very nice and at seven each evening, the bushbabies come down from the trees to be treated to their banana supper. Cute!
Sadly, the reality of life here was made aparent when a few days later we heard that three of the rhino had been poached. Slaughtered and left on the side of the road with their horns brutally hacked off.
The North East coast and ISIMANGALISO N.P.
The vast wetlands park covers a huge stretch of protected coastline, with the likes of 'Kosi Bay' and 'Sodwana', it is undoubtedly a well protected area with lots to see, but we found it a little dissappointing, we expected more, for us the best end was the south where we liked St. Lucia as you could actually walk to the beach via a boardwalk, see crocs lazing on the opposite bank, find fresh hippo tracks in the sand AND to get visited by bushbabies, bushbucks and a business of mongoose at the campsite!
That said it is worth quoting this guy :
" iSimangaliso must be the only place on the globe where the oldest land mammal (the rhinoceros) and the world's biggest terrestrial mammal (the elephant) share an ecosystem with the world's oldest fish (the coelacanth) and the world's biggest marine mammal (the whale) "
Nelson Mandela
And the other parks :
Tembe Elephant Park
Tembe is a big park where the rough, sandy tracks soon make you feel that you are very remote with the excitement of not knowing if you might bump into one of the renowned tembe "tuskers" around the next bend. You must have a small 4x4 to enter the park and they only allow 10 vehicles in each day, though the day we visited only 2 others entered. Adjacent to the Mozambique border this is not a busy park and the driving can be slightly testing but the reward is the feeling of bush driving and finding some of the 'largest elephants in Africa'.
We did indeed have one close encounter where I could have reached out and touched the tip of the big bulls tusk ( I didn't), we came across this male feeding and Phil immediately switched the engine off, we sat there and he patiently went about his meal and moved ever closer to the truck, so close that Phil was reluctant to start vehicle in case it startled the now almost touching giant. Thankfully he moved off, phew, that was quite the adrenal moment even for Phil, and he doesn't worry too much ! incredible.
One can choose to stay in the park at a lodge but we opted for the cheaper camping about 20 minutes drive from entrance at Shemula Lodge (sounds grand but a basic site really).
Ndumo Wilderness Camp
A very pretty park, lovely laid out and well looked after, a paradise for the bird watchers, we did a self drive around though did not really see that much, however, what was good was the 'guided walking safari', something we hadn't yet done. An easy place to stay for a while and felt very quiet and untouched sitting up here like Tembe on the border.
Mkhuze
Another 'san parks wild card' free entry park and so we took advantage of that and decided to visit. This is an unusual park in that it appears to be having a hugely disproportionate amount of money spent on it for the volume of either wildlife or for that matter tourists. All the roads have been upgraded with sleek new tarmac and all the hides have had serious make overs and improvements, they all look brand new, all fabulous. An extremely attractive park to drive around, all very nice but sadly with the recent droughts there was little exceptional wildlife to view (or maybe we have just been seeing so much wildlife that we are becoming slightly blasé about it all !)
Meanwhile angie took the opportunity to draw a rhino :
we moved on . . . . . .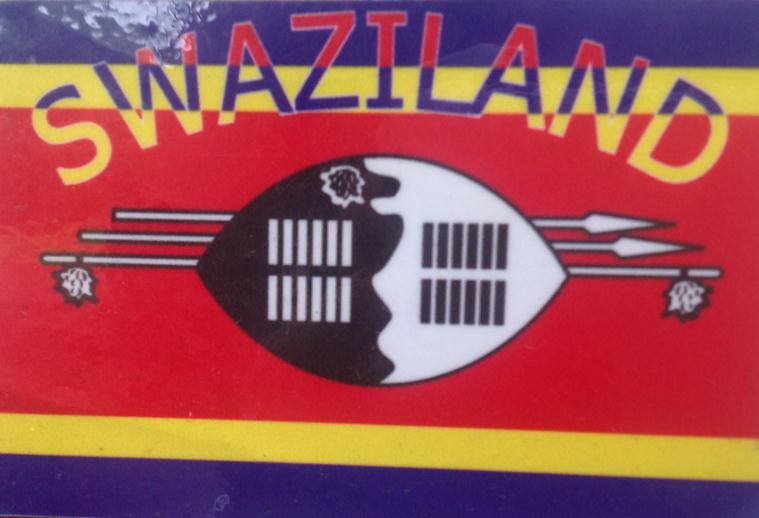 S w a z i l a n d
an independent kingdom, roughly the size of Wales………or Belgium!
It's a friendly, lovely country with a creative, artistic heritage.
Our first night was spent at a privately owned lakeside resort, owned by the local sugar giants, probably as an incentive for the big-wigs. A sign on the grass warned of hippos but when we asked the friendly security guy, he confidently said, "no hippos!". About an hour or so later, around dusk, we were startled by the appearance of that very creature, about 20 m away in the lake! He did growl at us once and wide open mouthed showed us those impressive molars. Reassuringly the hippo stayed in the water and kept his distance, thankfully !
Mkhaya Big Game Park
Swaziland has three parks that our 'wild card' permitted free entry into, our rough plan was to route around this small country bouncing into each of those parks, time was limited here as we had made some reservations for the Kruger park back in south africa.
Just up the road from our 'hippo side' camping is MKHAYA, not booked we thought we would just turn up at the gate, Mkhaya does not allow self drive entry. We arrived just in time, to hop on the guided game drive. Arriving at reception, we waited whilst the owners carried out an "anti-poaching" simulation. Quite why it was taking place at the reception, not out in the park was beyond us, interesting though.
Phil and I jumped on the back seats of the jeep and off we set. Within five minutes we were watching a small rhino family from a metre or so away. Five minutes later we were being seriously chased by one of the females! She followed us with increasing urgency and speed for some 20 mins, driver was not panicing but he was struggling to get away on the slippy and stoney trails, to cast an eye back and just 20 or 30 metres behind you is a full gallop rhino intent on destruction is not my expectation of 'an enjoyable game drive', at one point even Phil thought there may be a danger of her hitting us; passing our stuff forward and prepping me with what he thought I should do as the rhino hits us. Fortunately, very fortunately the driver found an uphill road and she finally tired and gave up. Phew ! enough.
Milwane Big Game Park
Simply gorgeous! The views from the Milwane campsite could have been overlooking the Welsh hills, green, gentle hills and wooded. The site itself was spacious and had an abundance of small game wandering through it. A family of Nyala regularly wandered close by and zebras shared our shade. It was baby time and we began to see many tiny, wobbly impala lambs, a whiter than white zebra foal and the cutest little warthoglets.
The weather was also very Welsh, with a misty rain and cool temperatures. However this enabled us to do some hiking and we did three lovely, very different ones.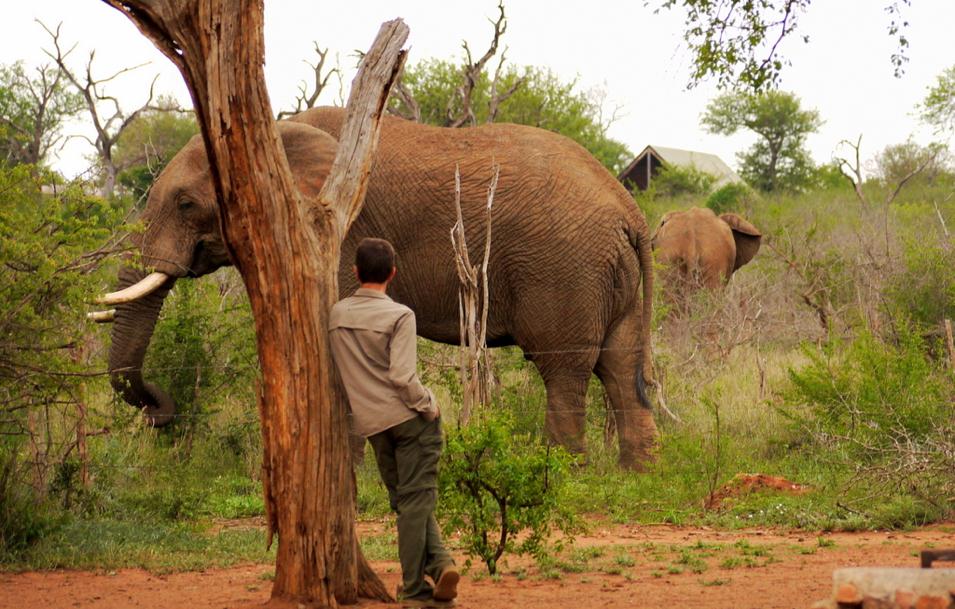 Hlane Big Game Park
Saving the best until last, completely different to the other two parks, Hlane is a more traditional self drive style game reserve, similar to Kruger for example. The campsite was simple and dusty but had the benfits of adjacent to the waterhole. much drier and on sand. However we loved the fact that it was lit at night by hurricane lamps. The very lightly fenced waterhole had a resident 3 hippos and Phil was fortunate enough to see eight rhino visiting for their evening drink too. The following morning a very large elephant was grazing just by the feeble 3 strand fence.
Swaziland feels and is very different from South Africa, there appears considerably more pride with the people, not just in themselves but also their homes, their villages and the general countryside. The people are proud and led by their 15 wife and dozens of children leader, the Kingdom of Swaziland head is the last absolute monarch in sub-sahara africa : Mswati lll . The culture is vibrant, colourful, and very artistic. A central focus point for this is Malandalas a funky place to visit, near MILWANE. It's an event centre/café/retail outlet and has a gaudiesque feel to it, with lots of mosaics and interesting shapes. The GONE RURAL outlet sells gorgeous woven basketwork from the local women's cooperative too, superb place to visit.
and so where next ? well, back into South Africa on up to . . . . . . .
K R U G E R N A T I O N A L P A R K . . . . . . . . . . . . . . . . . . 26/11 to 9/12
We had originally thought not to visit Kruger now as technically it's the "wrong" time of year. However, we were of course very glad that we did. Kruger is a huge park, it's another one of those 'size of Wales' places, south to north is approximately 400kms (crow flying) and 100kms west to east. We started in the very south and worked our way to a north exit, with all the zig and zagging that it is to 'game drive' we covered over 1000kms exploring.
Kruger has a variety of campsite options, some are very big, family style with 'Mugg n Bean' coffee outlets and swimming pools to cool off in, other camps are more rustic, more basic, really just a fence around an area of bush. We enjoyed the variety of the different camps. The pools were great (some exceptional), highlights of the camping was probably the 'exclusive' hide we rented just for us to spend the night overlooking a waterhole and then getting to sleep in the hide itself. Hyenas pacing the camp fences at night hoping for scraps. Swimming in a pool one afternoon and watching a big tusker elephant came lumbering past just metres away on the other side of the fence. Then our final camp at Punda Maria where we could park the truck overlooking the waterhole and sleep just 30 metres away, woken later in the night by a herd of about 20 elephants and able to idlly watch them from not just the truck but the bed ! perfect.
The park was lush and green in the south benefitting from the recent long awaited rains. Very arid and dry in the middle (wondered what the few animals were finding to eat) and then greener again in the higher altitude north. Animals and tourists tend to occupy the southern end so yes there one will find a lot more game to view but the north gave us our best sightings and often alone which somehow makes it that much more special. All in all we had some amazing game sightings, Kruger will no doubt lure us back at some point in the future.
On our first day, within ten minutes of leaving the camp Phil spotted a pack of wild dogs on the road. We killed the engine so as not to disturb them but soon realised that they were really ok with our being there so gradually crept nearer. The pack of 15 were just waking for the day and behaving just as domestic dogs do, licking each other, stretching, wagging tails etc. Their coats are an amazing patchwork of brown, beige and honey. Finally they started to move on, obligingly along the road and through a waterhole where they drank and paddled. Since there are reportedly only 150 wild dogs in the park we thought ourselves very lucky to have seen these.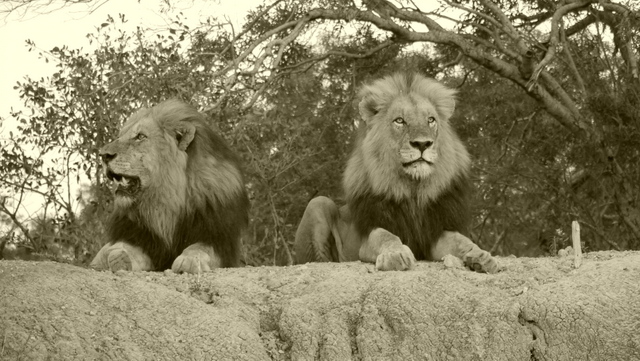 Early one morning, just at the exit of the Lower Sabie rest-camp we were treated to a magnificent view of three male lions. They walked slowly up the bank and then sat for a while at our eye level. Whilst taking a photo, one of them was looking directly at me! It was quite exhilarating!
On the road from Letaba, we spotted a very scruffy, female hyena right by the side of the road. We suspected that there was a reason for this so waited patiently for a few minutes. We were rewarded our patience by the appearance of two, tiny pups ( cubs?) who came out to play and feed with no awareness of our presence nearby.

The morning game drive to Babala picnic site via a gravel road, proved a little disappointing with only impalas to be seen. We turned back along the tarmac road and within a few minutes, spotted something ahead.We crept forward slowly and were delighted to see two male cheetahs, one lying in the road and the other casually sitting. We were able to watch them and then follow them as they walked, casually back towards us. The closest cheetah sightings that we've ever had….superb!
It was now 9th December and time to leave this amazing park. We have only a couple more weeks before we have to leave South Africa as our visa expires on 27th.
Forward plans ??? We are heading towards Botswana though the impending heavy rain may change those plans yet!!
. . . . . . end of diary entry four . . . . . . . . .
. . . . . . . . . . . A F R I C A
South Africa & Lesotho. March 2016
- - - - - - - - - - - - - - - - - - - - - - - to Cape Town for Christmas and then 'Kingdom of the Sky'
Namibia into South Africa . . . . . . . . . . . . . . entry formalities . . . .. . . . .
Stop at NAMIBIAN customs for passport and Carnet stamp out
Drive to pontoon ferry ( before 4:30pm )
Cross Orange River. Pontoon limit is 6T
Rush to park office to pay for pontoon ( 10$ )
Walk to customs in South Africa for stamp in….
However, the conversation went something like this;
" Welcome to South Africa, you have eight days for your visa "

" What? But we've only just entered, surely we get 90 days ? "
" No, sorry. Your visa has been almost used up in Namibia "

" But, but, but, this can't be right !"
SILENCE & WORRIED LOOKS EXCHANGED (us)
SECRET CONVERSATION IN AFRIKAANS ( them)

" Ah, We think it may be possible to give you 90 days after all "

" What? What's changed then ? "

Thing is, we never really got to find out!
We spent our first few nights in this new country in Richtersveld N.P. firstly a night at Potjiespram, followed by two nights at the prettier De Hoop which also had the benefit of a cool river in which to swim.

The park is infamous for a curious plant nicknamed Halfmens. However, we failed to spot even one!
.......... ...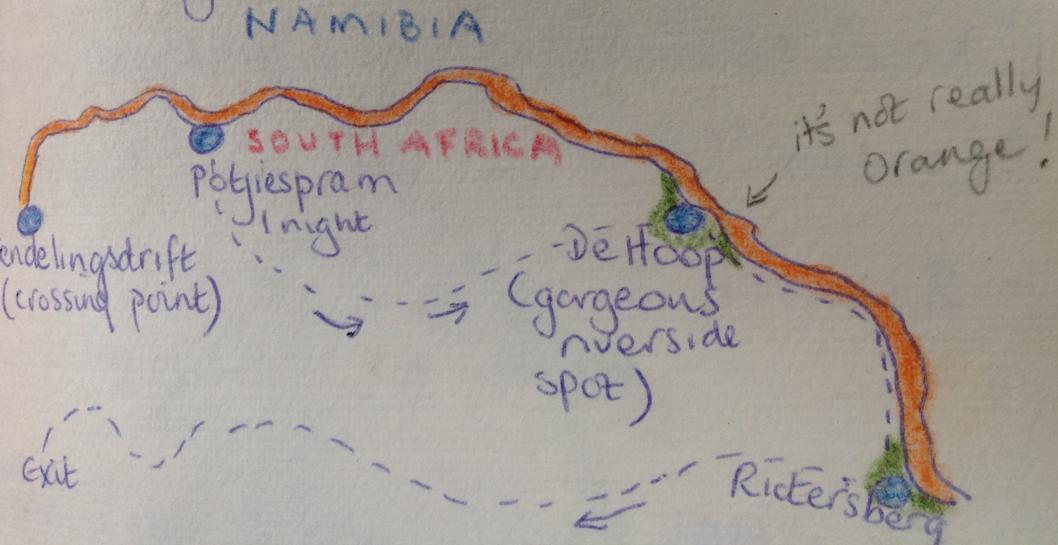 After much planning and consultation with our German companions, it was decided that we would spend the dreaded oncoming Christmas season in The Cederberg Mountain N.P. As we thought that maybe, just maybe, it would be a bit quieter. With this in mind we first headed south, stocking up with Seasonal Fayre in Springbok ( The town, not the antelope ! ) .
We touched the coast briefly at the weird Port Nolloth and got a taste of how South Africans like to camp, when we reached the bursting-at-it's-seams, campsite. Everything, including the kitchen sink, full sized fridge freezers, microwaves……is taken on a camping holiday and usually includes upwards of ten people too.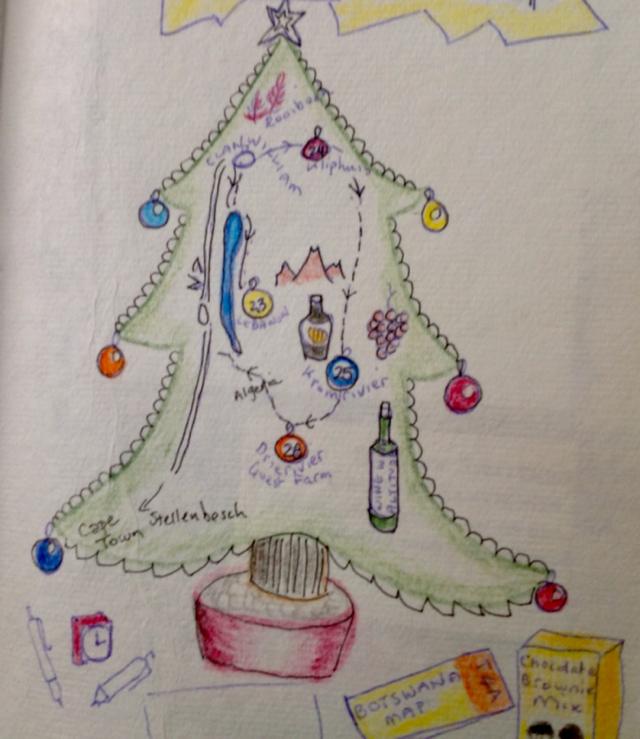 As we headed south the scenery changed and just before Cederberg, we spotted the first of the vineyards that would later become much more commonplace.
Clanwilliam. In the north of the Cederberg mountains is known for its tea growing. Not P.G. Of course but the uniquely South African Rooibos ( translates as red-bush).We found a cute garden café serving rooibos cappuccinos, rooibos milk shakes and other such delights.
We then took the northern route out of town, first staying at the lovely campsite-with-swimming-hole at Kliphuis. When Marieke and Andreas caught up with us we took the 4x4 route out. The first part of this road trundled along stony paths through huge rock formations. It finally spit us out in a cute but strange town of Wupperthal. We spotted tiny, limewashed " fisherman's cottages " which could have been transported from a Cornish village.
Eventually, we reached Cederberg Brewery ….. and campsite which was to be our haven over the busiest of the festive season. It wasn't the greatest place but did have the benefit of some huge oak trees, under which we could camp. Oh, and the microbrewery produced some very tasty beer too.
A few days later, we decided to head to the coast for New Year. However after failing to find any availability at campsites, headed back to the Lovely Driehoek Guest Farm that we had found a few days earlier.This was a real treat as the swimming hole was just metres from where we we camped.
Cederberg has many hiking options, but unfortunately the temperatures were up in the high thirties and so prevented us from straying too far, Phil as always opted for a couple of crazy hikes but for me . . . . another time maybe.
We had contacted a Backpackers place in Stellenbosch with a mind to do a bit of HelpX'ing so this is where we headed next. The Fat Pony is located some 20kms out of the town but as a horse-riding and backpackers, we thought it would be an ideal set down spot for a week or two. Which indeed it turned out to be, though it took us a day or so to settle in. Lorna and Alan who run the place are unique characters. Alan, a ziggy top bearded Harley rider and Lorna, British born very " horsey " type. Their chef Munir was to whistle up some fantastic food though and as well as cooking us great Dahl and rotis, showed me how to make paneer.
Sarah and Simon ( _muck_n_malarkey_ ) had by now caught up with us and joined us for a week at the 'Fat Pony', loving the doggy characters there: the handsome Cob and his sibling Girly. The poor, unfortunate Dylan with a hideously deformed lower jaw, little Noogie, with her big appealing eyes and Handsome Scoobie (R.I.P. Scoobs…….!) Phil and I got to do a couple of out rides whilst we were there too.
Stellenbosch is a pretty, whitewashed, low rise town with many cute gift shops and some great cafes and restaurants. But of course wine is king here and the opportunities for wine-tasting were numerous. We were persuaded to buy a wine passport, which gave us free tasting and pairings ( e.g. Brandy with chocolate) and each place we visited had its own unique character. Our favourite was probably FAIRVIEW, as we got to sample their delicious range of home produced goat cheeses along with the great wines.
We also got to see the latest STAR WARS again, but this time in 3D.
FIVE DAYS IN CAPETOWN … … . .
Day 1 . Wandering the V & A waterfront ( Victoria and Alfred…not Albert!), dipping in and out of cafes and catching the splendid WILDLIFE PHOTOGRAPHER OF THE YEAR exhibit.
Day 2 . Taking advantage of the CITYSIGHTSEEING Bus and spending a touristic day up top, hopping off to visit the moving DISTRICT 6 Museum and Governors Gardens then hopping back on to tour the scenic coastline.
Day 3 . Cable car ride up to the top of TABLE MOUNTAIN. Luckily we had a day when there was no tablecloth of cloud. Stupendous views. Hiked back down the steep, rocky gorge. Ouch !
Day 4 . Monkey and Birdworld….disappointing as it felt like a rather shabby zoo. However the day improved when we visited Kirstenbosch Botanical Gardens which were a tranquil haven of green. amazing place.
Day 5 . Return to the V & A for a chance to check out the wares available at the artsy WATERSHED. After a quick lunch at our favourite Food Marketplace, we spent the afternoon enjoying the world famous AQUARIUM which was great fun and yes well worth a visit.
During our time in Capetown we were camped at a great little backpackers lodge, LIGHTHOUSE FARM, nearby in the Pinelands district, an easy drive to the main sights of the city. The guys n girls who ran it were very friendly and it was an easy and safe place to stay, good spot for other overlanders. Cheap, clean, cheerful.
THE GARDEN ROUTE … … . .
cape Point, is not as some believe the most southerly point in Africa. . . . . . . . . . .
However it is a gorgeous place to visit and an easy day's drive from Capetown. We climbed the numerous steps up to the lighthouse and enjoyed watching the clouds rolling in with the waves. We also got to spot our first Bontebok. A very handsome antelope indeed: phils favourtite at the moment!
It is actually Cape L'aghulas that IS the southernmost point and our disappointment at not being able to camp in the National Park was offset by the ranger telling us that it was safe to camp on the beach. The Indian and Atlantic Oceans meet here, though you can hardly see the join! It was a lovely spot to camp and had the benefit of not one but two ocean breezes!
We were to spot more Bontebok a few days later as we crossed through Bontebok N.P. We reached there via the N62 which took us over the Schwartsberg Pass at 1580m and through Oudtsdoorn, which had its heyday in the Victorian era, profiting on its production of Ostrich feathers. It seems that breeding Ostrich is still profitable as we saw thousands being farmed.
The Garden route is aptly named for here, at last we saw proper grass and big trees. We stopped near to George for Simon and Sarah to have a new windscreen fitted and spent an idyllic couple of days at the lovely Ebb & Flow campsite. Phil and I even got to tube down river, though the river seemed to be more ebbing than flowing!
Next stop was at Tsitsikamma National Park. The village within, Storms River had a quaint little American Diner called Marilyn's. Lunch was unique but not particularly tasty, lot of fun though !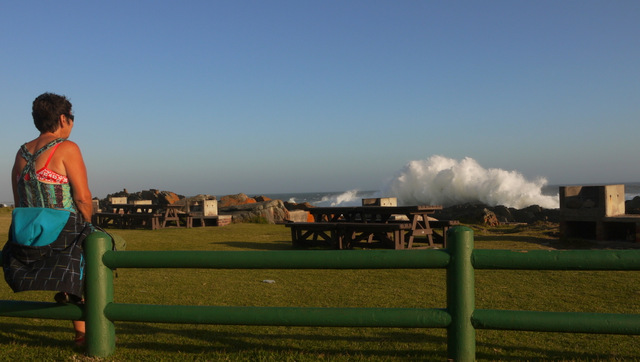 . . . . . . Storms River itself is not the village but the coastal spot within the N.P.
We spent half a day there watching the thundering waves crashing in and took a short hike over the three suspension bridges. The following day we all went zip-lining in the forest canopy. At times we were over 30m high. We saw a few birds and some tiny chameleons and it was all great fun!
. . . . . . ADDO ELEPHANT PARK … … . . … . . … .
After spending a night camping in COLCHESTER, alongside the estuary, we headed in to Addo. On our first day we spotted Cape Buffalo ( 1st time) and many familiar faces such as Kudu, red hartebeest, zebra and eventually, a small herd of elephants.
The following day, Phil and I set out early with a breakfast picnic. It was cool and overcast but these were perfect conditions, for within ten minutes of leaving the campsite, we were thrilled to see a lion and lioness taking a stroll. Usually they would already be asleep by that time. We watched them for a while and when they disappeared, we moved the truck up a bit to where Phil suspected they may reappear. So there we were sipping our coffee when a couple of Eland burst from a nearby bush, followed by the lion. He was less than 50m away and was deciding whether he should take the track that would lead him past the IVECO. Sadly he chose not to.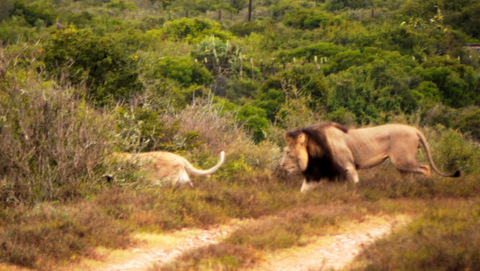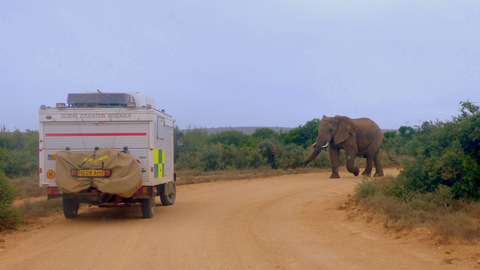 That evening, another first….we heard him roaring. A deep, rumbling, earthy sound and not at all the MGM Roar !
Whilst visiting the bird hide the next day to spot the colourful red Bishops, a guy pointed out to us a snake, asleep in a very nearby bush. He was being harangued by the bird life. Watching patiently we were rewarded by his being joined by a second, much smaller snake. They seemed okay with one another and awaited the warmth of the sun before they moved off. It seemed that they were the very deadly BOOMSLANGS !
" not all who wander are lost . . . . . " ( JRR Tolkien )
From Addo we headed north to the quaint little village of Hogsback where all is either fairy themed or has links to L.O.T.R. Apparently Tolkien spent some of his childhood here and was influenced by the scenery. The campsite at AWAY WITH THE FAIRIES was very pleasantly green and cool and cooked up a tasty pizza. Phil and I took advantage of cooler climes to hike the 8km or so round trip down the mountain and back up again. It was here at this fairy glen that we were first to meet with Helen and Jimmy, an intrpid young lady and a scottish fella riding their 'classic' motorbikes, amazing couple with some great tales, incredible adventures and a real 'nothing is going to stop me' attitude, but I'll let Helen explain for herself . HERE .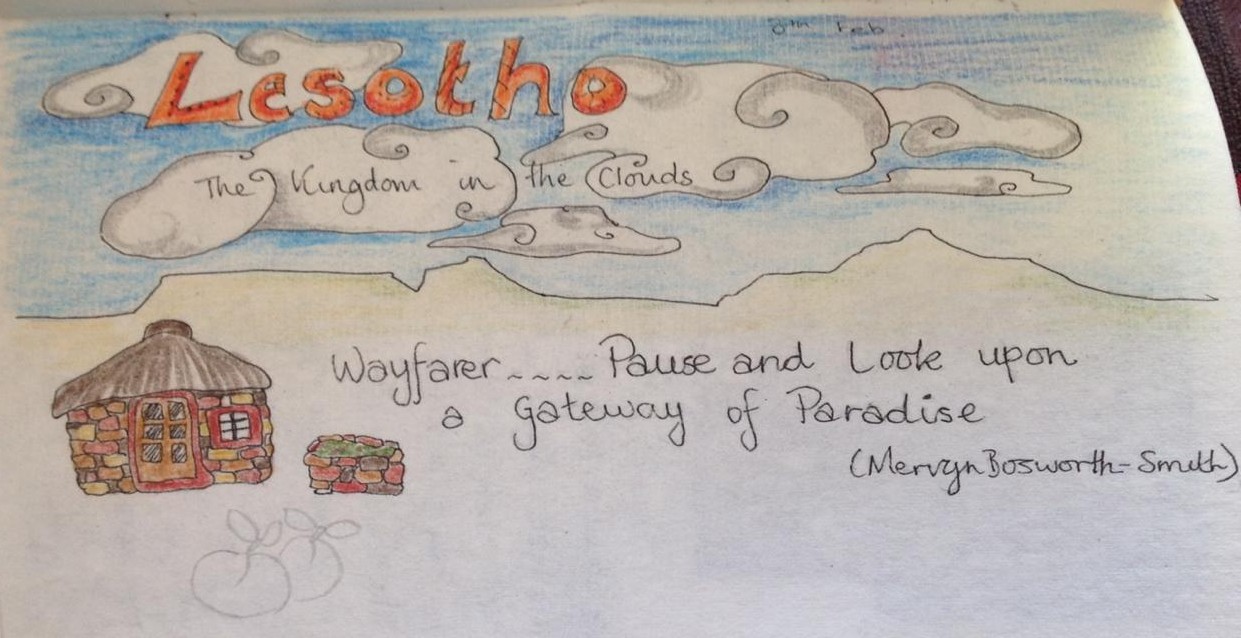 We were becoming conscious of time ticking away as our
visa was only stamped until 15th March.
We still wanted to visit Lesotho and so the plan was to
head to the border at Telle bridge as soon as we could.
With this in mind we had one night camped near the little
town of Lady Grey, before heading out on the road to
L e s o t h o ! !
The Tarmac road from the border eventually gave way to a fair, gravel road. We climbed towards our destination…. Malealea Lodge. We didn't quite make it !
Three kilometres short, Phil commented that there was a problem. A minute or so later we chugged to a halt. Fortunately he soon diagnosed the problem as a blocked fuel filter. Quickly a spare one was located and fitted and fifteen minutes later, the Iveco was purring gently up the last, steep kilometres, problem fixed.
Malealea Lodge is a little spot of paradise. Cropped lawns, sprout tiny, thatch-roofed rondavels ( round houses). We found a shady, level spot to park and enjoyed the evening twilight. Later that evening a vehicle pulled in with strange, Japanese number plates. Out jumped a tiny, little Japanese Lady, Rika. She is also a world traveller, but unlike us, does it alone. She is fearless and tough …..we got on really well. Rika has 2 vehicles, 1 here in Africa and the other based in Mexico, she bounces between thoe and her home in Japan - travelling the life. Her route to here began in Vladivostok, heading East into Europe and then came the West route through Africa, amazing lady and such fun - connect to Rika > ..HERE
The following day, we hardy travellers; Us, Rika, Simon n Sarah all exchanged four wheels for four legs and set out on a horse trek. The "path" we followed was often steep, both up and down, and it was also rocky. The precipitous ledge that traversed the waterfall, had us all holding our collective breaths. However, these sturdy Basotho ponies never missed a step,…..well, hardly ever. We picniced on some of my home made bread, sheltered from the intense sun, by the cliff of the waterfall before heading back to base. We were all totally exhausted by the time we got back, but it had been great fun. Incredible horses.
At Malealea, we finally parted from Simon and Sarah. They were on a tighter timescale to reach Swaziland and we wanted to explore Lesotho a little. Firstly we headed towards the waterfall at Semonkong. However, the 4x4 road we took slowed us down and we didn't quite make it, spending the night instead at The Adventure Lodge in Ramabanta. We did make a trip to the waterfall, the following day and were impressed by its location though a general lack of rain meant that it was not at its besthile we were enjoying the Lesotho highlands and the Malealea hospitality our friends from Hogsback duly arrived on their funky motorbikes, Helen and Jimmy also decided to come up to Malealea, all be it by a different, more adventurous route. They planned a multi day horse trail, now for Helen this was all par for the course (she had before bought a horse in Kyrgyzstan and then rode it for a month), but for Jimmy the idea of a horse was not something he was completely comfortable with! That fact won't stop these guys, off they rode and returned (after we had left) 5 nights later.
From Ramabanta, we drove due east through the country, enjoying the mountain scenery and the high, mountain passes. They all have unique names, such as the "God Help Me" pass. Use your imagination! We spent one night camped at a mission hospital, which was perfectly fine but a bit eerily quiet. Another night we persuaded the security guys to let us sleep at a temporarily closed, under new management lodge. A third night was spent at the bizarre, oxymoron that is AFRISKI, probably Africa's only ski resort. Finally, after many more passes, we reached the culmination of our Lesotho journey, the infamous Sani Pass . . . . . . . . . . . . .
Just a few Kms before we reached it, we were enclosed in thick cloud, bringing our visibility down to a few metres. By the time we reached the Lodge, it was pouring. We raced inside to be welcomed by the sign that says…"highest Pub in Africa!" And a roaring fire, simply perfect.
We stayed for two nights at Sani Lodge as we were waiting for Rika, (remember her ?) a young, world-travelling Japanese lady, to catch up with us. In the meantime we had also met on the road, literally right on the bend, a British couple driving a Landrover, Jason and Lisa.
It was time to leave Lesotho. We peered from the top of the cliff at the steeply winding, hairpin bends that form the first part of the Sani Pass. Fortunately, the cloud had lifted and as we edged slowly down this famous 4x4 only, dirt road, we did wonder a bit what all the fuss was about. However the scenery was beautiful and as we descended became a lush, green, river valley full of wild flowers and a solitary jackal.
We were headed to Khotso, a backpackers lodge and horse farm where we would stay for a while but not knowing at the time that this would be a temporary halt in my particular African sojourn.
. . . . . . end of diary entry three . . . . . . . . .
. . . . . . . . . . . A F R I C A
Namibia. November 2015
- - - - - - - - - - - - - - - - - - - - - - - 760kms off-road ! . . and elephants.
We passed the first thirteen days of our journey in Walvis Bay, staying at the non-luxurious but perfectly adequate Ana's Inn. We ventured only as far as the town centre to shop for basics that we could cook in our little kitchenette or to meet with Betty, our clearing agent.
The Lavender Ace, with IV2 onboard was heading steadily towards us and finally docked on 6th October, though we had to wait until the following morning to collect her.
The process was as swift as you would expect in Africa and took about four hours. However, it went without any problems and we were happily, soon reunited with our beloved IVECO, intact.
We had feared the worst and were surprised that no one had even opened the box. The only thing missing, our silver screen protector.
We headed back to Ana's for one more night to enable us to unpack all of the 'stuff' that we had filled the box with and make our home once again. It was a fantastic feeling to have IV2 back with us again.
The truck arrives, intact save for a scratch to the paintwork on the rear.
The following morning, after stocking the food supplies at SPAR INTERNATIONAL and picking up a few extras from CYMOT( a new silver windscreen protector) we headed for Swakopmund to meet fellow Brits, Vince and Jacqui and their travelling companions, with whom they had shipped their vehicles from Ghana, Marieke and Andreas. It was good to crack open a few beers and celebrate the here is a new adventure for all of us.
Initially we had planned to drive immediately to the north to Etosha N.P. But having chatted to the others we decided it would be fun to try some Namibian off-road and so we headed off up the Swakop river.
It soon became clear that this wasn't the best choice for Vince and Jacqui as their 10t MAN truck got heavily bogged in sand. It took over an hour for him to edge backwards, using our sand mats, to a firmer place. Consequently the next day they departed for Etosha but we remained with Marieke and Andreas and continued along the sandy, dry river to Flintstone Cave. our first proper Namibian wildcamp. It was a lovely spot, right beneath the rocks and early next morning we watched a troop of baboons squabbling and disappearing into the distance.
We spent another couple of days driving around the Dorob N.P. And even crossed briefly into the permit-only Naukluft N.P.we saw the weird plant…the Welwitschia which has only two leaves and can live for many hundreds of years in these arid conditions. We also stopped for a much appreciated tea and apple cake at a rest stop, all very german style-- apple strudel and ice cream in the middle of the desert.
It all went so well and was so enjoyable that we decided to continue together, for at least the immediate future and thus we headed to the mountains of Spitzkoppe.
The campsite at Spitzkoppe is set amongst large, rounded, sandstone boulders, vaguely reminiscent of Joshua Tree N.P. In the U.S. Each campsite has a drop toilet though no shower but it is a very pretty setting. We climbed the rocks to watch the sunset and the following morning, walked along the trail a little. We also bumped into V & J again here.
From Spitzkoppe, we headed towards the Brandenburg mountain, intending to take the southern route and reach Ugab. However we were forced up and around the east and northern edge. Passing near White Lady lodge, we drove into the river bed and what a surprise . . . . a small herd of desert elephant just metres away. We sat silently until they wandered off.
Having wildcamped a few Kms further along and as eating dinner, Phil spied a lone bull elephant in the riverbed a few hundred metres away. He and Andreas set off excitedly and were gone for some time. In fact dusk had fallen by the time they returned full of exciting news about how they tracked the elephant.
We continued along the trail the following day, stopping overnight in a ravine. Here we had our first sighting of a small herd of Mountain Zebra. They were very nervous and quickly gained height and distance. We had also spotted our first Oryx that day too as well as many springbok and ostrich. We drove only a few Kms the following day as we wanted to wildcamp in the next ravine that would give us early access to a trail leading to some San Bushman wall art. We did find them, though they were feint and difficult to spot. It was a very pleasant
walk too.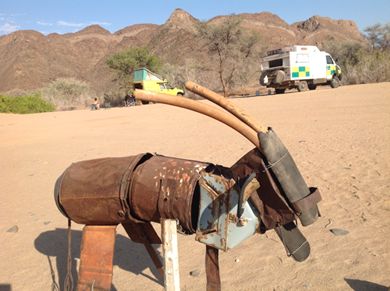 After a long drive and along a very rocky gorge, we finally reached Ugab Rhino camp. It was a welcome sight though had a bit of a Mad Max feel to it. We were surprised by the campsite signs here too!
We didn't see any elephant or lions but as we left the following morning we saw plenty of very fresh lion paw prints around the waterhole. Fun to think of lions wandering through our campsite at night. The prints and so we guessed the lions were heading in the same direction that we were about to take.
We drove the riverbed route through some impressive scenery and some deep sand, eventually we found the exit from the riverbed and start of the next challenge.
DIVORCE PASS
Hmmm wonder why they call it so?
We soon found out as we peered up at the steep, windy and very rough rocky slope we had to climb. However two enthusiastic guys with a sledgehammer and a will to continue, Phil and Andreas rebuilt patches of the road and were happy that it was possible to drive up it. And indeed it proved to be the case. Slowly both vehicles edged up and reached the summit, after which, the going was fairly easy.
Onwards we tracked . . . . . .
TWYFELFONTEIN AND MORE ROCK ART.
The San Bushman cave art at TWYFELFONTEIN is considered unique and has gained World Heritage Status. Some 2000 plus engravings are thought to be up to 6000 years old. The engravings appear in clusters. Some are in cracks and fissures in the stone. The elephant, rhino, giraffe and antelope pictured would have been present or have visited the area but the seals and penguins could only have been seen by nomadic, coastal visits. Some of the most recent, I.e.. 2000 year old paintings do depict man engaged in activities such as hunting and dancing. Circles with and without central dots may represent good and seasonal waterholes. The most famous image in the Lion-man, probably representing a Shaman.
At TWYFELFONTEIN we departed from M&A for a few days as they had car repairs needed and we were excited to finally be heading to Etosha N.P.
ETOSHA NATIONAL PARK 21-25/10
Etosha is famed as one of the World's greatest game reserves, covering over 22k sq km. at its heart lies the Etosha Pan, a shallow, inland lake that dried millions of years ago. Etosha means….Great White Place and it does have an eerie, shimmery whiteness.
Entering the park is relatively easy but requires queuing for a daily permit ($40NAD ppd) we were politely told that everywhere was fully booked but a few phone calls later were happy to be driving towards Halali campsite. Once again we bumped into V&J and after a few cold beers and a good shower we headed for the Waterhole.
The waterhole is overlooked by a natural rocky area, shaded by thatched palms and is spacious enough for all to get a good view of the water, some 20metres away. We were surprised to see what we first thought was a sleeping elephant, just on the opposite side, but soon realised that it was dead. We never found out how or why. On that first evening, the waterhole was visited by no less than eight white rhino, one of which was fascinated by the dead elephant and stood for some time with its front legs on the carcass. We saw numerous jackals, and a wildcat, but the rhinos stole the scene.
The following day we returned several times. The carcass had now been relocated some 200m away but still just about in view. At daybreak Phil had watched the lioness and some jackals that had obviously been overnight dinner guests, drinking long and hard. Later we watched a procession of zebra, kudu, springbok, red hartebeest and Impala visiting the water.
That evening, as we approached the waterhole we could hear a tremendous noise of splashing and squealing. What we saw when we arrived surprised us ...two rhinos, which we later identified as one black and one white one, were fighting in the waterhole. The smaller, black rhino was very aggressive and very vocal and eventually the larger white one gave up and wandered off.
About thirty minutes later, small herds of elephant appeared silently, spectre-like from the surrounding bush until eventually we counted twenty eight, including some small babies.
What a drama this all was. Much more fascinating even than watching the wildlife documentaries!
The following day we left Halali and headed to the new campsite of Olifantsrus where we would once again meet up with M&A. It is a small site with only a dozen or so pitches but has a unique waterhole hide, approached by a wooden walkway. When we wandered over to the hide we were lucky to see three bull elephants just below us, drinking long and loudly and then entertaining us with taking a dust and mud bath.
The road out of Etosha from Olifantsrus, to the west passes a few more waterholes and each one gave us a different view. At one, we could make out a pride of lions resting in the shade of a huge tree, watched the approach and drinking antics of a giraffe family, worried about the fate of the small jackal sitting in the mud and admired the herd of elegant kudu that waded into the water to drink. At another we watched a large herd of elephants taking charge of the waterhole whilst the cantankerous zebra waited thirstily.
Campsite that night was at a sweet little place just a few Kms from the gate, where we were told ' if the lion comes to the campsite, get into your cars '
OPUWO and the off road circuit.
A good Tarmac road leads from the park gate to the scruffy, hot little town of OPUWO. We had some hassle from local girls trying to sell us baubles, bangles and beads but we're not surprised when we refused them. After a quick stock up and refuel, we headed off road for our planned circuit.
The orange, highlighted line was the route we took.
The route mostly followed dry river beds and was a mix of rough, stony ground and fairly deep sand. The Iveco coped admirably and only temporarily stalled in the sand a couple of times. Phil's sand driving skills were rapidly improving with experience and he was finding that to stop before becoming embedded, reversing slowly back and trying again, succeeded in escape without needing mats etc. He had also realised that a much lower tyre pressure was
helping too.
Just before reaching the campsite, we spotted a very large herd of giraffe, feeding on some acacia trees. We were able to approach quite near without them being alarmed. There were over thirty of them and we were surprised to see that some had almost no markings but for a few on their backs. Possibly they have adapted their colouring to the sandy landscape.
(Notice lack of markings
on front left giraffe)
After a night bush camping where we were visited by a massive black scorpion, we headed towards Puros as we had been recommended the campsite there. It was a perfect place, shaded by a huge camel- thorn tree, with our own private bush shower and toilet. Just as we finished eating our home-made pizza baked in a stone oven, I looked up to see four huge grey legs. An elephant had slipped silently in ( how do they manage that?) just 30 metres from where we sat. We very quickly grabbed everything and headed for the vehicles though Phil and Andreas decided that it would be fun to go and stalk the elephant, who by now had pulled up the water pipe from the toilets and was slurping noisily. At one point however, the elephant noticed them and gave the distinct impression that they should back off!
Home made pizza!
The route continued on along the riverbed though by now there was water flowing in places and we had to cross-cross through it. However, there was no mud and progress was easy. It was lovely to see the greenery around the water and the different wildlife that it attracted. Once again we were lucky to spot a small herd of desert elephants, feeding nearby though I was happy not to have met them face to face in the narrow gorge.
We bush camped on the high plains under the only tree for miles. Though not a big tree we were surprised to discover that it was home to two goshawk chicks. Their parents circled noisily but seemed fairly unconcerned by our presence.
The next day we entered the Huanib river bed, just close to the large and very expensive private lodge and in the Palmwag concession. We were a little annoyed that there were so many no entry signs but continued on down the wide, steep- banked gorge towards Sesfontein. Giraffe and springbok aplenty and eventually yet another herd of those rare desert elephants!! These were being followed by a film crew and we watched from a high point later as the filming vehicle ' led' the herd to the private waterhole. We had a slight fuel issue with the truck as we had driven up a very steep slope and as the tank was low, we had pulled in some air. Fortunately we had a spare tank of fuel and a top up had us going again.
We didn't see the elephants the following morning but the drive was a pleasant one. We were stopped at the Palmwag concession gate and were expected to pay for 2 nights entrance. However, we persuaded them that we had only spent one night and so continued onwards.
Andreas found a great campsite in a ravine that was almost a large cave mouth. This gave us the much needed shade that we so desired in the afternoons. He also cleverly constructed yet another stone oven, this time with two levels. Marieke baked a delicious coconut cake and I baked some bread.
Sesfontein provided us with fuel desperately needed by now as all the 4x4 sand driving meant we had used almost double the fuel we would have on normal roads. Also found the local shop and a few meagre provisions from the ' Manchester United Stores' and we continued along e good Tarmac road for another hour or so before heading off up the Khowarib Gorge. We rested a while during the hottest part (between 1 and 4pm the heat is approaching 50'c ) of the day before attempting the steep, rocky climb up out of the river but once this was achieved the going was fairly easy. We spotted a sign for 'waterfall campsite' which we doubted somewhat but headed down the sandy track to investigate. It was a little piece of paradise.... a large, grassy area alongside a shallow but fast flowing stream. A little further along it tumbled over some rocks and made a perfect sitting shower, with cooler water than we would have expected. Certainly refreshing after the hot, dust and very windy day's drive.We bought some simple wood carvings from the campsite manager and finally gave away the bag of clothes that we had carried with us from the U.K. He was very pleased indeed.
The gorge was only about 20kms long and we left it the next day to continue to ' Klein Serengheti ' ( little Serengeti) which we thought would be an interesting detour. Unfortunately it wasn't. It was very blustery and hot and there was little wildlife though plenty of goats and two dead zebra.
The track that we chose to head out on was to prove very tiresome. It wound up and through some low, rocky foothills and progress was extremely slow and uncomfortable. Eventually after about five hours of this, it crossed through a palm- tree lined river, through a veterinary control gate where we had to paddle through a wet towel of disinfectant and up onto a gravel road which led to our destination of Kamanjab, where we planned to rest for a few days at the Belgian run campsite of Oppi Koppi.
We were extremely pleased to reach the campsite and though the pitch was not shaded and we didn't have our own private ablutions, was certainly a good spot to rest up and have the opportunity to clean out the dust of the previous days off road journey.
By now we had clocked up over 700kms of off-road driving, with at least 200 in riverbeds.
CAMEL SPIDERS AND THE BUSH BABY
We planned to visit and maybe do some hiking on the Waterberg Plateau but as the distance was long, decided to overnight camp at Weavers Rock. It was a very pleasant place and there we bumped into another British couple. Simon and Sarah (Muck n Malarky) shipped into Kenya last year in their converted Landrover which in a former life was, like ours, a Military ambulance. We spent a great evening chatting and comparing notes though became rather alarmed when we spotted this huge, spider/ scorpion running around under our feet. It was huge, it was horrible AND it jumped! My worst nightmare. At one point Phil captured it in our laundry tub, at which point it played dead for a while. He released it far from the vehicles and it disappeared into the bush.
Waterberg Plateau is a sheer, lichen-streaked red sandstone cliff which rises some 200m out of the flat plains below. As we once again chatted to our new British friends that evening, someone spotted something moving in the tree just above us. On closer inspection it proved to be the cutest, big-eyed, tiny little bush baby, who regarded us with little concern and carried on with his insect- hunting activities. We were all delighted to have seen such a creature, often very difficult to spot.
Just as it was getting light the following morning, we headed off up the steep, rocky path that led to the high point of the escarpment but sadly missed the sunrise by minutes. Phil had reached there earlier though unfortunately, cloud had obscured the first rays of the sun. We sat for a while and were visited by a friendly rock daddies, whom at one point tried to make off with Andreas' trousers . . . he was still wearing them. By the time we all reached the vehicles again it was time for a late breakfast and we sat watching the playful mongeese, the collective noun of which is apparently 'a business'!
Time to head for the city, shopping, car repairs and being a tourist . . .
WINDHOEK, here we come ...
. . . . . . . . end of diary entry two . . . . . . . . .
. . . . . . . . . . . A F R I C A
Namibia. 25th Sept 2015

So here we are then !

Nice n easy train ride to Birmingham, Charlie dropped me at telford and angie climbed aboard the train at Wolverhampton. Swish Lufthansa flight to Frankfurt first of all, nice staff, good seats and even got good and free lunch. So all in all a good start.
But
We waited around Frankfurt a couple of hours and took a CONDOR airlines flight from there to Cape Town. Mmmmmm, condor. Well think easyjet without the pleasure ! grumpy staff, expensive food, expensive drinks, they did supply snack but at best it really was inedible.
Luckily we had the option to sleep as this was an overnighter. All in all, middle stage verdict - 'ok' not 'good' and not 'the worst' just 'ok'

Slight potential issue avoided as I decided to just go and check the baggage carousel, just in case, this was now Africa after all. I chose to check because way back in Birmingham the lady had ticketd our bags at checkin, and indeed those bags said WALVIS BAY, but she could not give us our boarding pass for the third leg of journey. Now knowing a little about Africa and its' alleged logistics I figured that just maybe our bags would get thrown off with all the others. My logic was we were not 'checked in' and so I doubted that our bags would be either.
I was right. Bags came off the 'plane from Frankfurt with everybody elses and were not re-routed automatically to Walvis. Oh yes they would probably have got to Walvis eventually but definitely not on the flight we were scheduled to get onto.
We retrieved our bags. Removed the now old but I suppose valid ticket. Went to checkin and booked us and our bags on the flight to Walvis Bay.

Last leg then, by now we had been en-route for about 24 hrs.
Cape Town to Walvis Bay flying on board South African Airways.

Quietly waited in the departures lounge with the other seven people. Wondering where everybody was exactly ?

Duly a bus arrived to pick up the passengers, by the time the bus set off our numbers had swelled to a whopping 12 people! Really? Just 12 people on a 'plane to Namibia ? well "Yes".

Lovely little executive jet style aeroplane where each passenger had approximately five seats to spread out on.
This flight – super friendly ladies. Free snack. And free alcohol or soft or coffee.

In fact the ladies couldn't do enough for us, I mean they did not have that much to do, 12 people and 4 members of staff. They offered us all two meals each ! fine service indeed.
Sadly this flight was just two hours long and as quick as a flash we landed in Walvis Bay.

Here I anticipated another problem.
Officially one cannot enter Namibia unless one has a valid return flight booked (we had encountered this rule last when trying to get into USA - an expensive solution was needed that time), this time we waited at the back of the queue of 12 people.

Oh, hold on, worth mentioning . . . . . . .. . . Walvis Bay airport is a strip of concrete, nicely tarmacked over with nice white line down the middle. The rest of the airport consists of sand, lots of sand and a large tent structure.
This tent contains everything an up and coming airport could possibly desire. 'arrivals' and 'departures' areas occupy the same area. Only one 'plane ever come or goes from here and so 2 areas would be excessive waste. Nope one area will suffice. Same rules apply for customs and immigration and health check area.
Health check area was interesting. Issued a form for us passengers to complete. The form had one question : ''had you entered an area containing Ebola in last 90 days ?'' did not really matter what your answer was as the form was put on to a pile and nobody looked at it. So that was the Ebola barrier. One further check involved the old 'camera to see if you have high temperature'. We all (all 12) passed this obstacle, despite a few confusing moments over what the terms 'stand on yellow line' actually means ! (bloody germans)
So on top of the essentials in this tent it also had separated by a wooden 5ft high fence the cafe, gift shop and waiting area. Bizarrely we had to put all our bags through an airport scanner to ensure no nasty things inside. The type of scanner used when normally you check in at an airport not when you exit it ! However, as Walvis Bay is not the busiest place they decided to use their equipment for both the people arriving and as per normal the people departing. I suppose it keeps the 5 members of Namibian staff busy busy busy.

Anyhow, to get back to that slight pending problem of us not having a return flight ticket to get out the country. Absolute requirement as per country immigration website and absolute requirement as per our flight booking.
We waited in line.
Quietly shuffling forward.
We had already passed the stringent Ebola check.
We had already passed too the health check camera check.
Now we waited.
The 2 (slightly overstaffed I feel) immigration guys sat and very grumpily inspected people with that threatening and somewhat intimidating look that grumpy immigration staff often had (again last encountered at this level when entering USA).
Most people easily stamped in.
But wait, the American girl just two people in front of us. She is confronted with a somewhat imposing question, we strain to attempt to hear the issue but struggle to understand the grumpy guys mumbling. The American girl is now in a fluster, she is searching for paperwork, a waffle ensues, eventually she is asked to stand aside while she gets her papers sorted out. This girl is holding up the efficient flow of people through the immigration channel. Of course at this stage only 5 people remain in the queue.
We know not what the American girl problem is. I assume the worst and prepare myself for the pending refusal of entry as our ticket is just a one way affair.
I know we will exit Namibia overland but will the grumpy official believe us ? will my smile and pleading eyes appeal to his inner nature of fairness and welcoming approach? Would I need to revert to my paperwork proof that I have a vehicle coming to their beloved country ?
We waited more tense minutes.
Again the American girl attempts to re-enter the queue for approval of her now burdening paperwork pile. She fails.
Angie is first up to the desk.
I wait, I look casual, not too casual but quietly confident in a tourist type way, I attempt to not look suspicious as I wait in line. Angie is nervous. The man has her passport. I try to look innocent. Not sure what that look is but I try to attempt it. Probably failing and making myself look nothing but embarrassed and guilty.
The minutes trudge on.
What is wrong with Angies passport ?
Why is she not the other side now of that rather puny looking desk ?
I am certain her entry is taking far longer than the other 10 passengers has (well apart from the American girl actually) Finally the threatening manner of the grumpy looking immigration official surges into action.
He stamps her passport.
She's in.
90 days of leisurely activity assured.
Phew..

Of course I too am not asked or delayed in any way whatsoever.
This guy doesn't care two hoots about the rules and regulations.
You want to come in ? then come on in.
Welcome.
STAMP
Another 90 days.

Moments later the American girl too is welcomed onto Namibian soil with official stamp of approval.
STAMP.


Finally we had arrived.
Our accommodation here had arranged a taxi meet and we swiftly were driven by the most friendly of drivers who informed us that he had worked as a taxi driver for all of two days. Yes apparently he is a new employee.
With that in mind it is no wonder we had to stop and get the map out to find our destination.

Walvis Bay is not the largest of towns.
While it is the main sea-port town for Nambia it is not in any way large, approximately the size of Welshpool I would say, actually maybe smaller. We pretty much walked the length of the town today.
It's plain enough, wide clean sand filled streets. Large, modern, contemporary style housing dots the streets. Most have high fences or walls topped with electric wire and of course every house needs a barking dog to jump up at the gate as one wanders past. Reminds us slightly of American urban towns of no fixed identity. Nice enough but nothing to write home about, either good or bad.

Our accommodation is a simple enough apartment with all you need, bathroom, small kitchen with oven, fridge, microwave. Satellite tv and very good wifi internet.
We have apartment number 2. Apartment 1 has some long term south African couple residing there and he works at one of the local mines. Apartments 3 and 4 have some local workers in, friendly enough.
The owner, whom we saw briefly just as we arrived; he is the local manager of the town water authority, he proudly advised us that; ''the water is excellent, good to drink straight from the tap, no problem''. He also owns a campsite somewhere in the south and he has gone there for the weekend, literally as we arrived, he left. No paperwork, no payments. ''see you Monday'' he shouted.


For Africa style countries I'd say so far Namibia is very laid back, very easy going, friendly people, pleasant enough. Not great but not bad either.
We like it.

Today I woke up and the realisation of where we are exactly had finally sunk in. I said to Angie ''do you realise we are in the same country as elephants ! how cool is that. ''
We then went shopping.
Spar.
Yes, SPAR.
But not only that. The local spar has on its&squo; shelves MARMITE. Not just a diddy jar, but the normal size jar too and even a marmite with cheese flavour mixed in. and these three different types of marmite are not selling for some extortionate ex-pat rate but selling for less than UK prices.
Namibia, well Walvis Bay actually, no in fact to be precise the SPAR outlet of Walvis Bay in Namibia has gone up in my expectations. Gone up considerably.

Now we have to find something to do for the next 10 days.


. . . . . . . . end of First Diary Entry . . . . . . . . .