Morocco. 4th Dec to 19th Jan 2015
Having changed our minds about taking the 6am ferry, we headed out to catch the 11am instead. However it was midday by the time it sailed out of port.
I was surprised how quiet it was, there seemed to be only a handful of other campers but lots of lorry drivers.
The crossing is brief and it's actually possible to see Morocco from Spain….it is only about 8 miles. Though it was clear and bright when we left, when we arrived just over two hours later it was pouring.
As we waited to clear customs we were entertained by the heavily overloaded cars, roof racks full to capacity and towering over the cars below.
For our first night we rejected the 90dh campsite for what we hoped was going to be a quiet, car park.
About 9.30 the police arrived checked our passports thoroughly and told us that we weren't in a good place. Consequently we drove into town and found a fine place overlooking the beach.
Friday 5th
After a short walk along the promenade we headed for Tethouan where we hoped to visit the Medina. However the city was frantic, a heaving conglomerate of cars and people and so we failed to find any parking despite Phil's valiant efforts driving through the narrow streets trying to avoid market stalls and low-hanging cables. We gave up and headed along the coast road towards Al Hoceima. The drive was spectacular along the rugged coast but of course slow going. It was just getting dark as we found a suitable parking spot for the night, hidden from view of the road and with full moon views of the rocky bay below.
Saturday 6th
Greeted by bright sunshine but feeling the chill of the mountains.
We took a spectacular off road track along the cliffs to reach the idyllic, secluded bay of Cala Iris. Finally I was able to find and buy some Moroccan bread and practise my very rusty French.
After lunch by the beach we took an even more rugged 4 by 4 track to reach the Penon. This little island is actually still owned by Spain and apparently houses nearly 60 people. The beach was protected from invaders by a barbed wire fence and there were even a couple of guards on the gate!
Sunday 7th
Last night we were rewarded with the full moon shining over the tranquil seas and the rocky islet lit with glowing Amber lights, it was very pretty.
We made an early start, retracing our steps down the rough track to the village and thence to drive through the Rif mountains, south west towards Fes. The road we took is renowned as being a bit dubious for travellers as it passes one of the regions where hashish (Kif) is grown and savagely marketed by every male over the age of six. Those under six were savagely marketing walnuts. It was quite nerve wracking as the guys try to stand out in front of you to make you stop but we passed through without incident.
The route through the mountains was of course stunning and worth the grief of passing through. Once we were down off the mountain the sellers disappeared and we made our way to campsite Diamant Vert, which for less than 10euros impressed us. Of course the promised wifi was intermittent and frustrating and the washing machine had broken, which meant hand washing a whole load of grubby clothes by hand in the shower (hot water!) but hey…….
THIS IS AFRICA!
Monday 8th
Laundry….well I did succeed and it did look and smell cleaner so that's something. Though temperatures had dropped below freezing during the night the day was bright, warm and sunny enough to dry everything. We'd decided to take a day out here and not, as planned drive into the city. Very quiet and peaceful spot….you wouldn't know you were in Morocco.
Wednesday 10th
Having arrived at the site of the Roman ruins at Volubilis too late to visit last night, we made an early start to visit the following morning.
It is an impressive site but quite unrestored so amidst the fallen pillars and ramshackle house walls, grew scrubby bushes. The result of this was that small birds flittered and twittered amongst the ruins. Lovely!
What impressed me most of all though were the fantastically preserved mosaics, surprising as they are open to the elements.
Thursday 11th
We had camped the previous night near to Volubilis as apart from the friendly guide telling us that it was fine to park….if we'd give him a whisky or beer. We found him a beer! Oh and before we left the site we negotiated with the stall holder for a tagine dish and burner for 110 dirham…about 10 euros..
Hercules with the three headed dog
We decided to visit Meknes as all our info suggested that it was more tourist friendly than Fes. We found this to be true and were generally ignored by the busy shoppers. The small produce market was fun and we bought a bucket of assorted olives for less than 3 euros, some tagine spices and some delicious almond sweets. We popped into the tiny museum but were a bit unimpressed and also into the Medersa……an Islamic religious school, which was lovely but the little cells were bitterly cold.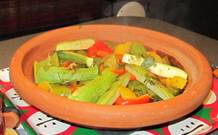 From Meknes we headed south and found A super camp spot in a large cedar Forest just south of Ifrane. Someone had left a small fire burning which we took advantage of to try out our new Tagine Dish and burner. It took about 50 mins.
Smelt great and tasted even better.
Friday 12th
The cedar forests had proclaimed the presence of wild monkeys and as we drove a short circular route around the giant trees, we did in fact spot some. Later as we followed a track through the hills, we spotted many more. It was a long day of driving but we'd been rewarded with lovely scenery. A quiet side track gave us a very peaceful nights sleep though early the next morning the farmers arrived to plant the field we were next to.
Saturday 13Th
We left the main road to head up into the mountains and to try to follow a circuit that Phil had found. It was lovely, especially following the greeny-grey ice melt river through an autumnal valley. At one point the road seemed to disappear into the river bed but following it, it became clear that it was going to be tricky. A small girl came running down the hillside to tell us about a diversion but we were too committed to this path and couldn't turn. There was a slight hair-raising moment at the very end as the truck started to slide sideways towards a concrete post and a big dip. Phew!
Continuing up, we finally arrived at a flat enough place to camp and apart from the noisy but friendly dogs barking were left in peace. That night it rained heavily…slightly worrying but worse was to come…….
Sunday 14th
We woke to a thick layer of snow on the windscreen and an almost complete white out of the track we were on. At least 5cm had fallen in a couple of hours. Despite the weather we decided to continue on and up to the pass at 2650m. At first the track was only lightly dusted with snow but as we gained altitude it became somewhat thicker. We were rewarded with views of the incredible Berber houses stacked on the hillside when the blizzard conditions ceased. However it was not to be. Finally we could hardly see where the road went and with precipitous drops it was just too dangerous. We decided to turn back.
It took over 3 hours to get back to our start point and another three to reach the next town. Unfortunately we ran out of diesel just 15km short. We drained all reserve tanks, added a bottle of cooking oil. A kindly passing driver also gave us another 3 litre…..plenty to get us into town.
Fully fuelled we continued onwards around the scenic lake towards Marrakech. A small side track gave us a quiet campsite for the night though the relentless rain didn't!
Monday 15th
Woke to find that we were parked in a river. The rain of the previous night was swishing around our wheels….albeit only a couple of cms. Unfortunately we also had a problem with our lights which had shorted and cut the battery. After an hour or so of head scratching Phil finally solved the problem and got us all lit up again……genius!
The journey onwards towards Marrakech was uneventful though rainy. We located the campsite that we planned to stay at the following night on Dave's arrival, then drove into the city to shop.
Yvonne had mentioned that she thought it possible to camp overnight at the airport and indeed it was. 30 Dirham
for 24 hours…..how cheap is that?
Tuesday 16th December……Dave arrives!
Awoke to strong sunshine….hooray!
Dave's plane arrived 20 mins early but the queue through immigration meant a half hour or so until he emerged smiling through the Arrivals door.
We headed into the city and passed the day strolling through the tourist souks inside the medina. It was all very photogenic and colourful though much of the same thing repeated. Glossy, glazed ceramic tagines, bright leather slippers called babouches, silver jewellery and of course mounds of aromatic, colourful spices. Then there was the darker side, the blind beggars, the stalls selling live tortoises and Falcons and even a tiny owl in a cage.
Being a tourist is tiring and so after a couple of hours we found a pavement café to rest our selves whilst sipping Berber tea. We had waited until sunset to witness the arrival of the food carts but unfortunately missed that. Instead the busy square was now completely transformed into Al fresco dining for several hundreds…offering salads, soups and sheep heads.
Returning to the campsite was made more complicated by being involved with the traffic chaos that was a result of the World Cup football match being played at the huge new stadium……right next to the campsite. However it was fun to watch the ticket touts and late comers running to get there in time for kick off.
Wednesday 17th
After a good night's sleep which involved Dave taking a night in a fancy tent, we departed South. The route we had chosen was to take the Tizi-n-test pass, allegedly one of the most beautiful passes in Morocco. As we left the city behind, we began to climb, passing through small villages which gave us the chance to stock up on fresh fruit, vegetables and bread, though the latter involved dodging the attentions of an enthusiastic jewellery seller. The sun shone, the roads were relatively quiet and so we continued until dusk where we found our first wild camp spot, underneath a radio transmitter. Dave built his "nest" in the cab which involved sheepskin rugs, several blankets and cushions and his own cosy sleeping bag.
Thursday 18th
A long day of driving but first we took a brief coffee break at a pretty café at the high point of the pass at 2092m. The descent was longer and it took until lunchtime before we were down and ready for a bite to eat, overlooking a wide but empty riverbed.
Just a note here; a couple of weeks before we entered Morocco, there had been heavy and serious rains which had caused deaths to over 30 people. Over the next few weeks we would see much evidence of the severe damage caused to bridges and some roads, though remarkably the river beds often now looked bone dry.
At Aoulouz we took a different road in an attempt to cross to Ouarzarzate by a shorter but higher route, over 2500m and by nightfall had reached a point of just over 2000m which we considered was high enough for a good nights sleep. A chilly wind blew as the sun set but the views were splendid.
Friday 19th
As we began our journey the following morning we were greeted by a little crowd of happy teenagers. The guys laughed when we explained where we were going, the girls giggled coyly behind their veils. However from one of them we gleaned the information that the road was "cut" and therefore impassable. Of course we didn't take any notice and continued over ever rockier and rougher terrain until we reached the impassable cut! The road had been washed out and there was no way around at this steep elevation. Once again we were thwarted in our attempts to pass higher ground.
Retracing our tracks only a little, we soon got back to the main road headed for Ouarzarzate and found a quiet track off the road for our second night wild camping.
Saturday 20th
We reached Ouarzarzate by lunchtime though failed to find much of a supermarket to stock up for our forthcoming desert adventure. We did however, find good fruit and veg stalls and not only bread but pain chocolate and cookies. We considered, but rejected the possibility of visiting the film studios which are famed for some of the scenes in films like Raiders of the lost Ark and one of the Bond movies. Maybe we would have time on our route back.
From Ouarzarzate we headed northeast towards the two gorges though by that time, Dave had hatched a plan to take a diversion which would take us a bit further up into Dades gorge. "It's only about 15kms" he assured us. Righty-ho then…..let's give it a try"' we said.
Firstly we passed through a small village with extremely narrow and uneven dirt streets. However having successfully navigated that the track opened up a little. Onwards we tracked, slowly on an ever increasingly rough surface…though nothing to worry about. Until, that is, we met the first riverbed crossing!
Now as I mentioned earlier, most of the rivers from the previous heavy rainfall had now gone, but it had left its mark on the soft, sandy and scarily steep-sided riverbanks. We all jumped out to asses the possibilities and Dave's enthusiasm combined with Phil's reluctance to never turn back, ensured that the Iveco was carefully navigated down the steep side….along the stony bottom and straddled a steep ravine back up. "Phew," we thought…."that was tricky but not impossible" and so we continued…..until the next one! My idea to camp this side of it as it was getting dark was scotched and the guys agreed that it would be fine to negotiate and we would camp on the firm ground the other side.
Well, we made it through though by the time we stopped, chatted to some curious children who had appeared from nowhere, it was almost completely dark. Time for a good hot supper then.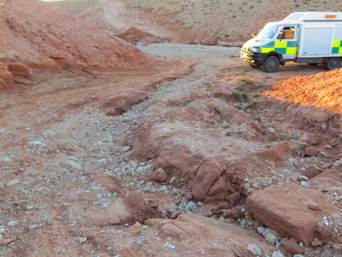 Just one of the steep sided riverbanks that we had to negotiate!
Sunday 21st
It seemed inevitable now that we would continue along this route and as we were about halfway along it. We thought, well maybe hoped that it would improve.
Of course it didn't.
The steep ravines caused by the rains proved challenging but we didn't actually get stuck anywhere. Minor damage was caused to the small overtaking camera as we hit a rock going down a very steep bank. I was impressed, as always by Phils driving skills and the sheer nerve it takes to negotiate unstable tracks. By late morning we finally glimpsed the Tarmac of Dades gorge….we had made it through.
A brief coffee stop at a pretty café gave us the opportunity to look at and indeed almost buy a carpet but we eventually came away with only an indigo-dyed turban for Dave and some silver "hands of Fatima" earrings for me.
We had thought to take a cut through road half way up the gorges but on meeting a Spanish couple who had tried it, we were strongly advised not to do so as there was still snow and the roads were icy. Instead we drove back down and along the main road and entered Todra gorge from the bottom as most tourist do.
Incidentally this was a significant place for us as ten years ago on our first trip into Africa we were "poisoned" after extracting water from what looks like a lovely glassy-clean river but is actually the sluice pipe from the upper villages.
For better reference, see Safari Jema, by our good friend and companion at the time, Teresa O'Kane (chapter Dead Goat Water)
However touristy, the gorge at this point is very pretty though photos fail to do it justice. We stopped for a cuppa at a car park just above the gorge to decide on our next move. Though we were thoroughly "encouraged" to visit his campsite by a friendly and persistent young man, we declined and wild camped at a peaceful, open spot about 25kms up.
Monday 22nd
Dave saddled up as he h'd decided it might be fun to cycle back down the 25 or so Kms back down the gorge. We gave him a twenty minute or so head start but were surprised after driving all the way down and through the next villages that we hadn't caught up with him. Finally just as we rounded a bend going steeply up a hill we spotted his bright green shirt. He had really enjoyed the ride down, especially through the villages.
We had previously planned to meet up with Kevin, Dani and others on or around 23 rd in Merzouga and so needed to cover considerable kilometres albeit on fairly good, Tarmac roads. As we enterered Erfoud at sunset we were rewarded with a spectacular sunset amidst the palms and though we failed to find the municipal campsite before darkness set in, we were signposted to another just out of town. Though deserted it was open and the promised hot showers turned out to be very much appreciated.
Tuesday 23rd
Backtracking into Erfoud for a few more provisions took a bit longer than we expected. Dave and I hunted the entire town for charcoal, which seemed an impossible item to find despite being the major fuel source for the bubbling tagines. A very insistent local kept appearing to offer help though we repeatedly declined…..we could manage by ourselves thank you very much. Indeed we did find the bakery from where we not only bought bread but flour to make our own. Dave bargained like a good'un to get a box of dates for less than 4euros but eventually we gave in to the local who appeared with a carrier bag of charcoal for which he wanted 100dh. No way! He finally accepted 25 which we still thought was too much.
From Erfoud the road tracks directly South towards Erg Chebbi, which was our destined meeting place. A brief stop to search the dunes with binoculars and we soon spotted the familiar Iveco. Great to be back with Kevin and Dani and to meet Gary who was making his first 4x4 foray into the desert. Sad though that Paul and Yvonne hadn't made it. Andy, whom had been with us on the Spanish coast had unfortunately fallen out of his van and fractured his collarbone only 24 hrs after entering Morocco. His repatriation was being aided by Paul and Yvonne in Meknes but they promised to meet us on the road ahead in a day or so.
Kevin, in his enthusiasm to find a route through the dunes, whisked Phil off. Half an hour later we got a phone call to say that they were well and truly stuck in the sand. Dave and Gary jumped into his truck and headed off to find them…..bearing in mind this was Gary's first experience of sand driving and that Phil had all the navigating devices, it was going to be an interesting rescue. Luckily Phil's literally brilliant idea of using a mirror to reflect the sun when they spotted their rescuers in the distance proved successful. With much digging and effort they finally all returned just before sunset but of course in time for beer o'clock. We had also been joined by Peter, a Land Rover traveller from the Netherlands. We were ready to roll!
Wednesday 24th Christmas Eve
Though the spot we'd arrived at yesterday was nice, we all decided that we would like to be further into the dunes and feel a bit more remote. Accordingly we set off for our first real dune driving. Woweeee……what fun to bounce up over or plough through the soft sand. We were very impressed with IV2's performance and would never have thought we could do this type of terrain without getting thoroughly bogged down. Kevin got a little stuck on top of a dune but was easily pushed through. Gary however was stuck in a much more precarious position where a wrong move just might tip him. Lots of digging accompanied by cheerful banter ensued. Digging sand is hard of course, but it's not like mud. At least you stay reasonably clean! Finally we all got through and found a fantastic little bowl amidst highish dunes. We were amused however, to be told that a member of the Royal family was to arrive at a nearby encampment that night. We spotted his party laser lights and heard the bass booming into the early hours!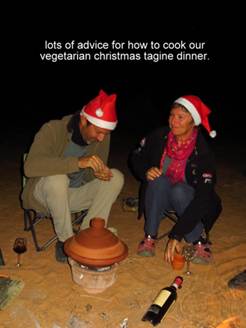 Thursday 25th Christmas Day
The sun shone brightly and despite a slightly chilly breeze a walk through the dunes began the day. After about a km we reached one of the bigger ones and from the summit were able to make Christmas phone calls to one and all.
The day passed beautifully; opening presents, sipping Buck's Fizz, preparing dinner and generally chilling out. After lunch we played Boule in the sand. A passing tourist group on camels, thinking they were deep in the desert were very surprised to see us! Dinner for us was to be Tagine and so the little cooking fire was duly lit with our precious charcoal. By dark the chill breeze sent us indoors though we had spent a good couple of hours seated around a good campfire with a few beers of course. The tagine had taken a little longer than expected and I'd had lots of advice along the way, but it was pretty good. The lemon meringue pie I'd made earlier that day, was too.
Happy Christmas everyone!
Friday 26th Boxing Day
Not too early a start, though no bad heads from last night, the plan was to head for the start of the piste that would take us from erg Chebbi to Tagounite. The Africa Eco Rally was following us and would bivouac in the small town on New Year's Eve. Of course we wanted to see their arrival and departure so planned to take the next few days to arrive there. We received a phone call from Paul and Yvonne, they were only a little behind us in Erfoud so we arranged to meet them at lunchtime at the start of the piste in Taouz. On reaching the village, some ventured into a small café for lunch whilst we parked behind to eat our own lunch. By the time we all met up and were joined by Paul and Yvonne we had all been told in no uncertain terms that the piste was either impassable or at least would prove extremely difficult due to "the rains". Oh those rains………."but impassable is not impossible" saith Dave the wise. We would give it a try and if we had to turn back then so be it…………….so we continued.
At first the going was easy, some small dunes, some bumpy tracks but nothing we hadn't coped with before. We had been advised that the difficult part was 50kms or so ahead so we weren't worried for that day. Unfortunately though we had taken a wrong track and despite a couple of young, persistent guys on a motor bike offering to "guide us to the piste" we refused and continued ahead. It was not to be. Peter drove ahead his Land Rover easily tackling the rough track but finally admitting defeat and returning to tell us that there was no way through. We turned around, but now of course we're driving through our own churned up tracks, deeper than we had thought. First we got stuck, though briefly it entailed some digging. Then Paul got stuck, his 10 tonnes bogging him securely in the soft sand. "Where are those spades and ropes we told you to bring?" We all jibed. We had all previously thought how ill prepared he was for the journey, having only a fancy winch that wasn't even connected. However we finally succeeded and also accepted the young guys offers to guide us to the piste, though not before unwrapping his bundle of fossils, just in case at this late hour we felt the need for one!
We found a good spot on hard, volcanic type rock and though not far off the piste, busy with returning miners were able to get a good nights sleep.
Saturday 27th.
Piste Day!
The southern Piste runs almost alongside the Algerian border for many kilometres, in fact at times it's possible to see the guard posts. It's not a really bad track, we'll certainly at first and we rattled along the following day. We crossed a wide flat "oude" a dry river bed where we could see clearly that this journey would certainly have been impossible a few weeks before. Just a few metres either side of our track were suspiciously dark patches of what would certainly be gluey mud. By lunchtime we reached a small village and spotted a sign for Zagora……encouraging we thought!
However just outside the village we took a track which became increasingly deeply rutted, soft and very narrow. No room for turning if a bad decision!
It was really our only choice to continue and as we were leading, we tentatively crossed the first small river channel successfully. Paul, however, was deeply stuck and in a difficult position to dig out. Phil and I decided we would be more useful in surveying our route ahead and set off to see what it was like. Oh my!
We rounded a bend, passed through a thicket and came across the main river crossing. A steep 3 metre drop onto the river bed…..who knows how firm that would be and then a seemingly impossible climb up and out the other side.
Right, off we go then. As leaders we set off bravely forth, negotiated the soft sand tracks, teetered on the top of the river bank, plunged down over the precipitous edge, dropped to the river bed, drove ten metres then promptly got stuck up to our axles in sticky sand! Fortunately we had the walky talkies with us and were
able to call back to tell the others not to follow yet. After about thirty minutes digging and with the help of the three young local lads who had sat on the riverbank being thoroughly entertained by our antics, we broke free and were able to stop a little further on, on firmer ground. We gave the all clear for the others to follow, which they did with success.
Now all we had to do was to make good the steep ramp that would be our exit. With all hands to the wheel we chopped down brush, moved sand and generally smoothed the track out to what we hoped was a passable standard. Of course we were at the front so first up, but with hard revvs, we made it to the firm ground at the top. Within the next ten minutes we were joined by all the others too. But…….more was to come!
We headed off in what we thought was the right direction though this time Kevin took the lead. He had just disappeared from view when a voice came over the radio, "don't follow, we are stuck in mud…….really stuck," we leapt out and ran off ahead to find Kevin's Iveco glued to the ground up to his axles. Oh dear…this didn't look good. Dave and I ran back to tell the others to go help dig but first Paul tried to turn round……and got stuck too!
By the time we had sorted him, Phil had gone off in search of the tractor driver that could be heard in the distance, to negotiate a pull. Kevin was determined to get out under his own steam but just got deeper in. Phil radioed to say that the tractor driver could indeed help but demanded ten thousand dirham…..about a thousand euros. Kevin politely told him what he thought of that. In the end though, Phil had taken tea with the guys and charmed them into coming to our aid for a mere 500dh…..nearer to 50 euros and came riding back into view like a champion!
The tractor worked of course, though not without almost tipping Kevin over again as he rounded a corner. All was left was for us to turn around and join the others all now safely parked. But no….not so easy. The tractor driver was called in to help again but happily gave us a bit of a tug out without asking for more cash. He was actually a nice, helpful guy and we were all very thankful to him.
By now it was getting dark but as we were all well parked and level, decided to stay put. Enough for one day!
Sunday 28th
We were back on the piste again and so the next morning we were able to make a fairly early start. Though we had to negotiate a little soft sand and a couple of very small river beds, soon we we back onto the hard stuff. Progress was steady that day and went without anyone getting stuck in anything. We planned an early stop that evening and I took the opportunity to use Gary's gift of a bag of flour to make a large and delicious loaf to share between us. I had also made a large pot of Dahl which we shared with Dani. Kevin declined the offer as the alternative was chicken curry with Paul and Yvonne.
Monday 29th
With a burst of enthusiasm, Dave decided to get biking today. After spending an hour or so reassembling Phils bike he was ready to go. We said that were were about 20 mins behind and would meet him, if not before, at the border checkpoint.
By the time we actually left around 40 mins had passed but we weren't worried. Dave had taken the GPS and a phone and the piste was fairly evident.
Most of the time we could actually see what we thought were Dave's tracks, though we were a bit puzzled by the double track. 10, 15,20kms passed but still no sign of Dave and we couldn't reach him on the CB radio either.
Just then we spotted the telephone masts and a crackly voice was heard to say "where on earth are you, I've been here waiting for over half an hour?"
As we rounded the bend the guard post came into sight as did Dave, happily chatting in Franglais to the two bemused guards.
Papers all checked and we were on our way.
A slight change of plan today. Originally we had thought to head straight to Zagora and the luxury of a campsite for a night or two before driving back South to the finish line of the rally. However, we all thought that we would like to spend a couple more nights in the desert instead. So instead of taking the more direct piste north to Zagora we took the more southerly one which took us more or less straight to M'hamid. Passing through Tagounite, we were surprised to find it well stocked with fresh fruit and veggies and we were able to top up water and fuel tanks..
With the prospect of a bit more time in the dunes we left the crazy village of M'hamid amidst crowds of guys trying to sell us something, or persuade us to stay on their campsites and headed off across the sand. We were unable to leave behind the final two crazy guys who followed and indeed intersected our track in an attempt to stop us though once we all parked in our protective circle they finally realised that we didn't actually need a campsite at all and left.
Tuesday 30th
A rest day followed. The dunes were pretty though not as lovely as those in Erg Chebbi. By mid afternoon the chilly breeze had slackened enough for us to go for a walk in the dunes with Dani and Mali and we spent an hour or so tracking up and down some of the bigger ones. By the time we got back a campfire was lit and we passed the evening chilling with a few beers before it got too cold to stay out longer.
Wednesday 31st New Years Eve!
Those sand dunes proved just a little too tempting and we couldn't leave the next morning without a bit of a play in the sand. Phil surprised Dave by putting him in the driving seat and thence the fun began. Though the dunes were relatively small, they were challenging enough to need some skill to get over them. The instructions of "accelerate, accelerate, off the accelerator. Off the accelerator" . . . Whump and we were over. After several of these, Dave's confidence increased and it was obvious that he was having a ball. Eventually though we rejoined the others and headed back into the village for a pit stop. Strangely, no one bothered us with the offer of a campsite that day. Phil and Dave had examined the rally info and consulted maps and were fairly certain that they knew roughly the whereabouts of the finish line.
Off we set, following multiple tracks looking for any signs of the impending race. Nothing! We crossed through a border check, "yes" they said….the rally is coming in that way. No it wasn't. But we were actually very close and by the time we turned around we spotted the first of the support cars.
The final 200metres of the stage that day was to cross a wide though fairly shallow, stony river. It made for a fantastic vantage point as the vehicles all had to pause to determine a way through before ploughing through the water, spraying it everywhere before passing within a few metres of where we stood. Dave leapt about with his camera excitedly and was to take some fantastic shots. The helicopter landed just a few metres behind us, spraying us with sand…it was all a lot of fun and very entertaining.
By around four we thought that most of the vehicles had come through so we walked back to our parked trucks. Before we left we had a quick chat with the drivers of the huge Iveco truck that was taking part and later they were to overtake us and pass us the remains of their goody bag. We followed them to the by now dusty site of the bivouac and camped on the edge of the compound.
We were later able to sneak in on the New Year's Eve festivities and enjoy a couple of glasses of champagne and some delicious chocolate cake whilst listening to the following days briefing for the support teams whilst warming ourselves around the big campfire. Enough for Phil and myself and we headed back to the truck before midnight leaving Dave and Gary to go party with the Belgian and Russian teams who seemed to have packed only vodka! What ensued that evening we can only but imagine but Gary's hangover the next morning suggested that the boys had par...taaay..ed! Dave's comments were to the effect of …..It was certainly a unique way to spend New Year's Eve.
Welcome to 2015………
Thurs 1st January 2015
We had planned to leave the rest of the team the following day but events took over and we ended up spending one more night together in Zagora.
On the drive out Kevin had been overtaken by Gordito his pet mechanic from Zagora. Though we had originally discussed having work on the springs of IV2 we had dismissed it as we didn't think we now had time. This meeting en route was provident as Gordito assured us that he could complete the work that very day. And thus we found ourselves parked outside the chaos that is a busy mechanics workshop in Africa.
Over the next few hours, wheels were removed, new springs fitted, punctures repaired, exhaust welded and new horn in place…all for a mere 1750dh! A bargain and an excellent job done. It was quite an experience for Dave to witness this kerb side mechanics that is so a part of African travel, accompanied by numerous glasses of Berber tea.
Eventually we arrived at a small campsite and joined the others then headed out to eat. Pizza tonight…and it was pretty good too although a little chilly for Al fresco dining. However, we must remember that it was only 1st January.
What a fun and successful end to 2014 and start of 2015.
Friday 2nd January
Now we really did have to head north and begin the 350km drive back to Marrakech. The drive out of Zagora was very pretty, through green Palmeries and passing numerous road-side date sellers. We hit the road, made good time and were the other side of Ouarzarzate before we knew it. Once again we rejected the chance of visiting the eerily quiet film studios as we wanted to gain some elevation for Dave's last night on board.
Rather than taking the main drag to the pass, we chose a lesser route, passing Ait Benhaddou…..also the setting for many well known films though not impressive enough for us to make more than a pause (during which time Dave was offered a lizard!) before continuing up on and up.
We like to find a campsite before it gets dark and were beginning to think we would have to settle for an O.K. Spot. However Phil turned back and drove a couple of Kms to a track he'd spotted earlier. It was perfect. Up and away from the road and was to give us superb views the following morning.
Saturday 3rd January
Dave's time with us was nearly at an end. We had one last day to enjoy before arriving at the airport to camp…back where we began nearly three weeks ago.
The drive was stunning, the route we had chosen was lovely and as we gained height to the summit of the pass we stopped briefly for a coffee break. Of course we were assaulted by fossil sellers but we good naturedly bantered with them and came away with a couple of pretty examples for about a euro each. Last photos were snapped and we hit the road for Marrakech.
Arriving at 5pm in the evening isn't the quietest time but Phil bravely negotiated the chaos of traffic, even taking us on a short detour around the city walls.
We arrived at the airport car park just as dusk was falling and shared our last evening meal together.
We had covered nearly 2000kms in the 19 days that we had travelled together. We had crossed high passes, sand dunes, pistes. We had worked altogether as a team, giving and receiving help when needed. Dave's energy and enthusiasm had been fantastic, and never a complaint about his cramped nest in the cab or the need for a hot shower. We had driven, eaten, drunk, partied and celebrated together and I couldn't have wished for a better end to 2014 and start to 2015.
Sunday 4th January
Having ensured that David had actually got on his plane to return to the U.K. We drove back to Camping Le Relais, where we had begun the adventure nearly three weeks before. Laundry was duly completed and dried quickly in the warm, breezy sunshine. Later we sat down with maps to determine how we would spend the last two weeks of our Moroccan journey.
Monday 5th January
So the plan was……we would return South, though not to Zagora as we had originally thought but to Tafroute. This meant that once again we would travel the tizi n test pass though this time we wild camped a little further along. The roadworks were still going on and we sat and waited for 40 mins or so, amazed by the guy up the cliff face levering huge boulders out with a crowbar then watching them bounce and smash on the track below. Thankfully he paused his efforts as we drove underneath.
The Painted Rocks near Tafraoute
Tuesday 6th January
Continuing along our way to Tafroute was now a straightforward journey and thankfully the purple track we had thought to take was not a track at all but smooth Tarmac. We arrived early afternoon to the peaceful little town and found a fantastic wild camp just outside and below the giant red granite boulders which give this place such pretty scenery.
Having driven so much, I was keen to have a few days rest here and maybe if it worked out, await the rest of the guys who were driving this way but via the piste from Zagora.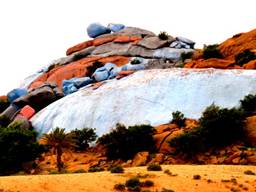 Wednesday 7th to Saturday 10th January
We spent the next few days chilling out amidst the rocks. Wandering down into town for a few provisions and being amazed by the number of slipper makers touting their wares…very desirable….maybe I should buy some! Also we scrambled about the boulders, some as large as a house, others could be stepped over. We were rewarded in the evenings by fantastic views of the sun setting on the red rocks behind making quite a breathtaking setting. Phil worked on editing photos….and we had thousands by now and I did a small repair job on the worktop which had been caused when the oven bounced off whilst dune driving. We were entertained by small but very voluble birds who enjoyed our kitchen scraps and we even spotted some chipmunks playing on the rocks. The weather had changed and the chilly wind that blew during the day became a howling, buffeting demon at night. Once again we got out the maps and planned our journey, though now, with only 8 days left it could really only be North. The Coast was awaiting!
Sunday 11 th to Monday 19th January
We had just a few days remaining in which to drive up along the coast in order to catch the ferry which would take us more swiftly to Italy.
We weren't expecting too much, in fact expected it to be full of plastic fantastics (those Eurocampers) that irritated us so much in Spain. As it turned out they were there, but all neatly crammed into tiny campsites.
The Coast was pretty, especially for the first few days and there were plenty of nice spots to wild camp. We were tempted, but didn't stop in Essoiuira and only paused briefly in Agadir to stock up at a supermarket.
The Kms passed swiftly enough and as we got further north, the bright sunny weather ceased and the rain set in. Our last night's campsite hardly allowed us to sleep with violent winds buffeting us from the ocean.
And that was it……our Moroccan adventure had ended. We'd had a fantastic time and of course would have liked to stay a little longer but we had organised a HelpX and house sit in Turkey and now only had two weeks to get there. The ferry would take us just over 2500km in 3 days, much quicker than we could possibly drive it.
Small bay along the coast
Troubles on the ferry!
"How long is your car sir" the ticket officer asked as we tried to check in. Well we had booked it at 5m but it seems I had been a bit inaccurate. This fact meant that the next 40 mins or so were spent trying to find the man with the tape measure as he didn't trust our measuring. Oops, it appears to be 5.25m. No problem madam, just pay us another €175 and you can be on your way! To cut a long story short, an obviously important female official heard our tale and not wishing to upset the tourists, stamped us on our way. Not before the ticketing guy came to extract the last few of our dirham though!
We were shattered by the time we finally drove on to the ferry around 10.30pm and so we thought, rather than go upstairs with the crowds we would sleep in the truck and then go up the following morning when we docked in Barcelona.
Only problem was…….we didn't.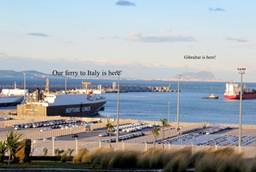 My mistake again, I'd checked to see what time we would reach Barcelona but didn't check the day! It was the following day and now we were stuck down in the warm, smelly hold. We decided that we would have to sit it out and wait until the following day. In any event we settled down to watch a movie later that afternoon when suddenly a shocked little face peered under the shutter.
He politely told us that we shouldn't and couldn't be there and the upshot was that he had to report us to the higher authorities. The Captain was definitely not amused, confiscated our passports and told us that it would be passed into the hands of the police in Italy! Oh dear, that was a bit of a worry.
It all ended happily though as when the ferry docked and we went to collect our passports we were given virtual slapped wrists, told we were very naughty and got our passports back. Phew!
We were back in Europe…..all that remained now was to cover the 3200km that we needed to get to Turkey.
Piece of cake!