A Year in Spain. September 2013 to September 2014
As I write this, sitting here in our "new" Iveco, I am trying to recall the events of the past year, one which has passed so quickly.
In order for this to make sense, I need to back-track a little, to April 2013 when we left South America behind for the last time.
Leaving south America was a sad moment but made doubly so because we were not leaving with our trusty old Iveco (IV1) which had taken us so far around the world with so few problems. She was tired and old, her repairs (thanks to the upside-down parking in Mongolia) just kept needing more repairs.,It just wasnt a viable option to bring her home. In fact we managed to sell her to Tony, an Australian, who wanted to spend a few months roughing it around South America and who was happy to pay a token amount for the privilige.
We had already bought her replacement (as photos on the website will show) and she was parked up and ready to be converted into our new-home-on-wheels.
<![if !vml]>
<![endif]><![if !vml]>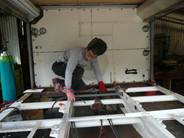 <![endif]><![if !vml]>
<![endif]>



And so the work began . . . . .. . ..





By September, though progress had been good, the work was far from finished. We had pre-arranged to spend the next six months house-sitting in Cantabria for Jasmine and Javi and couldnt wait any longer. The remaining materials and "stuff" which comprised of the interior of IV2 were stacked high in the box, together with our clothes, food and about 150litres of cooking oil (bio-diesel). We set off, south for the ferry from Plymouth to Santander on September 7th.
Over the next six months we progressed steadily. Morning planning meetings over coffee decided the days jobs and fortunately the weather was kind and allowed us to continue pretty much un-interrupted.
<![if !vml]>
<![endif]>



In the meantime, we hosted family and friends. Firstly, my daughter Ellie, my friend Sheryl and,Phils sister Jane, husband Alan and son Luis (who was slightly less enthusiastic about the hiking prospects than mum and dad). Just after Christmas followed Dave....who was very enthusiastic about the hiking, my mum and dad and finally Matt and Charlie. We love having people to stay as its a good opportunity to offer some of Spains gastronomic treats! My repertoire of Pinxos/tapas has improved and the plentiful availability of excellent Rioja is always welcome of course.
Matt and Charlie accompany us to the beach.
We made very good friends with Tino and Carmen, our neighbours and had some fun with many conversations "lost in translation".
We also had the opportunity for two short trips, the first to the Rioja region, which in its autumn colours was spectacular, then on to the thermal springs at Arnedillo. The second to spend some time along the stunning northern coast where we easily found superb wild-camping overlooking pretty bays. Our favourites being the the estuary of the river Ajo (garlic) and the sleepy town of Isla. Though only a couple of hours at most from our home base at La Sota, we felt we were having a holiday from a holiday!
Plans changed for our onward progress, as they often do and Phils desire to walk the Camino de Santiago came to realisation. I, in the meantime would return to the U.K. for a few weeks to catch up with family and those friends whom had been unable to visit. On 7/8th April we finally left La Sota.
The weeks passed quickly, with Phil walking on average 30kms a day it seemed clear to me that he would complete the entire walk of 830+ kms before myself, Jane and Alan would meet him in Lugo to walk the final 100kms together. I had returned to Spain with a plan of picking up IV2 and driving to Santiago. Unfortunately the family of mice that had taken squatters rights inside meant that was not a good idea for who knows what cables and wires they had sampled. I caught the bus instead but arrived hours too late to see Phil walk the last metres into the Cathedral Plaza. We met early the next morning.
(See Phils photos / video here)
After a few days together in Santiago, we caught a bus to Lugo and met with Jane and Alan. Unfortunately Phil had injured his leg and though bravely opted to continue walking with us, was unable to make his second entry into Santiago.
It was a great experience for me and though sad not to be walking together, I was very happy to be able to achieve an average of 20kms a day, which I had not previously thought possible. The walk was lovely, mostly through quiet country villages and tracks and the weather kept fair until the very last few hours when our entry into Santiago was accompanied by a downpour.
Phil and I spent one more day in the lovely if slightly touristic city before arranging a lift back to La Sota (via BlaBla car) to collect IV2.
A couple of days later we were in the Picos de Europa National park, a place which we had very much looked forward to visiting.
It is difficult to find enough superlatives to describe this particular park and the planned two week stay, eventually ended up being nearer seven.
The ''Picos'' are a high point along a ridge of mountains which runs along the north coast of Spain and though not high by mountain standards reach to 2648m. The scenery is spectacular: wherever you are, jagged peaks dominate every horizon. The high forests comprise of beech, Pyrenean Oak, ash, sweet chestnut and lime. Tiny pantiled roof houses make up the picturesque villages and hamlets. As well as the usual small mammals you might expect, there is apparently a small population of bear and wolves-though of course we didn't spot any. Being May, the meadows were abundant with numerous varieties of wildflowers which made our hikes even more pleasant. We particularly loved the clusters of deep purple, wild iris.
But it is the walking that makes the area so incredible; there are very many, well marked hikes. From short 5km ones around lakes to multi-day hikes which make it possible to traverse the park on foot almost as quickly as you could drive around its circumference. We used Sunflower Landscapes published by Hunter Publishing as our general guide when hiking and followed eight out of eleven of their suggestions. We also had good quality maps and were also able to plan some of our own routes using these.
<![if !vml]>
<![endif]><![if !vml]>
<![endif]>
It was difficult to choose pics!
We wildcamped easily, though of course it was still early in the season but mostly it seemed, the authorities turned a blind eye. Some of our favourite campspots were when we drove the 4WD tracks across the mountains, allowing us to pitch up at the highpoints. The telerefique station car park at Fuente De also became a favourite of ours, not only because they kindly left the bathrooms open at night but for the splendid views of the 800m high, almost vertical limestone wall which faced us.
And if all this wasn't delightful enough, we also had the opportunity to sample gastronomic delights such as the piquant blue-veined goats cheese (matured in caves) called Picon and the refreshing, artisan cider or Sidre, poured into thin glass tumblers from a great height.
As much as we had loved our stay in the Picos and had probably walked approaching 300km, we had to leave as we had arranged a HelpX stay in the south of Spain. We had always thought that we should spend more time exploring Spain rather than heading off into Europe and to this end I had spotted an opportunity to help out at a camp site, high up in the Alpujarras at 1550m. My reasoning was that it would be a cooler place to spend the hottest summer weeks and Phil's reasoning that whilst we weren't driving, we weren't spending on fuel. The fact that we were given free camping and three, adequate meals a day all helped to keep our tight budget on track. Our last day in the Picos was spent shopping in the rain at the marvellous Sunday farmers' market in Cangas. Such a vast array of cheeses available that it was difficult to chose, though most stalls offered samples.
We had just under two weeks to drive and so decided on a route which would take us through Portugal along the eastern border with Spain, as we had never visited Portugal before. Before arriving however we planned to visit the city of Leon as I had wanted to see the famed, stained-glass windows of the cathedral.
In fact we ended up staying in Leon for three nights, thanks to their policy of allowing free overnight camping for vans in a city centre car park. Very convenient for sight-seeing and shopping. The stained-glass windows of the cathedral, took our breath away; they formed walls of glass, intense in the richness of colours and surprising by their seeming contemporary despite being designed and installed in medieval times.
We had a short, overnight stop in the very pretty castle town of Puebla de Sanabria where we very briefly dipped in the wide shallow river and later wandered up and around the impressive castle and then down through the cobbled streets, stopping to buy some dried setas and good cheese from a very friendly shop-keeper.


<![if !vml]>
<![endif]>Before crossing into Portugal we made a slight detour into Parque Nacional Montesinho which had a reputation for being home to the largest population of Iberian Wolves in Europe, apparently numbering around 2000, though we were very sceptical at this figure. However, on the day we left as we drove a rough, 4WD track we were very fortunate to spot a wolf leap across the road ahead of us and as I had the binoculars at the ready, was able to watch it turn and look at us before disappearing into the undergrowth.


Portugal
The first city we arrived at was Braganca-the famous home of Katherine of .. We wandered the sleepy streets of the town up to the castle wondering why it was still siesta until we remembered that Portugal follows GMT and therefore an hour behind Spain. Clearly the Portugese were still snoozing! The castle walls, newly refurfibished, zig-zagged down the hillside and terminated in a pretty, terraced car park which was actually intended for camper vans and allowed free overnight parking. It was the first of many such places which we came to use in Portugal over the next week, often with toilets and water too.
The summer sun bore down on us and we found the 30degree temperatures made for difficult travelling. At such times you have a choice either head for the coast or head high. We chose the latter and drove up into the Nacional Park of Sierra de Estrella. Our campspot that night was an enormous, clean and tidy but entirely deserted sports centre, lined with cherry trees that were hanging with ripe fruit. Of course when we left the following morning there were less cherries on the trees but kilos in the fridge!
As the road climbed, the following day it terminated at a gorgeous high point with somewhat surreal scenery. The huge, rounded boulders reminded us a little of Joshua Tree national park in California and they just begged to be scrambled up and over. With the golden-yellow broom and the sage-green scrub surrounding the boulders, it all made for a very scenic setting.
<![if !vml]>
<![endif]>(Almost though not quite the highest point in Portugal)
<![if !vml]>
<![endif]>Though we planned to drive down through Portugal, we couldn't resist a quick detour back in to Spain to visit Alberquerque mainly due to its namesake in New Mexico though apart from the lovely hand painted tiles announcing the little town's presence, there wasn't much to see.
We almost didn't find our next destination Marvao as our GPS seemed to want to send us up impossibly narrow streets. However, as always, Phil's sense of direction put us in the right place and having found a good place to park for the night, we wandered up into the little castellated town.
The walls of the castle are quite imposing and you can only imagine why such a fortification might be needed here in times past. We climbed the steep stone steps and got to the top just in time to watch the sun setting then strolled through the little, boxed gardens and back down through the quiet streets, lined with tiny white painted houses. It was truly lovely but though we planned to climb up the next morning, we made an early start to avoid the heat instead.
We visited one more castle with impressive Roman remains before our final drive to reach the south. The Algarve is of course, famous for its tourism industry and scenic beaches. We were anxious that we would dislike it and hesitated for one more night before descending to the coast, now a hazy blue line in the distance. That evening, just as we thought we'd found our own private miramar, several cars started to join us. We thought, being a Friday night, that it was the local youths coming up with their girlfriends but within minutes a big friendly guy got out of the lead car and asked us if we'd mind if they could pray!!!
An hour or so later, with much chanting and some weird groaning, they all got back into their cars and disappeared!
So we finally hit the coast though it wasn't really what we had expected. It was all fairly low-key and just a tad scruffy around the edges .which was quite appealing We ventured into various little towns along the way, stopping to do a little market shopping for some top-class fruit and veggies, bread, cheese and smoked paprika. We popped into Faro to visit a church with an Ossuary but arrived minutes too late. We left rapidly as Faro wasn't in the least appealing.
Our final night in Portugal was spent on our own little patch of private beach which Phil had tortously navigated to around the labrynthine salt ponds. It was really rather pretty and we were very happy not to have stayed parked in town as the faint sounds of an all night Fiesta reached us even in our remote spot.
<![if !vml]>
<![endif]>Portugese hand-painted tiles
Just before our final entry back into Spain we stopped briefly in a small village to buy some bread (we had discovered that Portugese bread was often better than its Spanish counterpart!) Close to the Panaderia was a small museum dedicated to äll things cork''Now we had spotted the rather unusual but strangely elegantly denuded cork-oak trees for a few days in this region and were a little curious about what it was all about so we headed to the museum to find out. It was a delightful little place, neatly set out and interesting enough to keep us there for well over an hour. Also, unusually, we'd been handed a compact booklet in perfectly worded English to accompany our tour of the museum. Cork was and is still the main economic factor in this region and we hadn't ever given any thought upon opening our wine bottles as to the quality and work that got it there. And how sad it is that back home in the UK such a delight as pulling a proper cork from a bottle no longer exists (well at least within our budget!)
Still the sun bore down on us though thankfully our wonderfully designed pop-up roof saved us from the worst of the overnight distress. We still had a few days and decided upon a slightly different route which would take us through one more National Park before heading to Trevelez. We arrived in the pretty, mountain village of Grazelzema around 5pm and were slightly curious as to why we had seen so many cars double-parked both in and outside the village and why the quiet out-of-town car park we'd chosen had begun to fill up. A little research on Phil's part, revealed that the annual ''bull running'' fiesta took place on the Monday after the weekend's festivities and we had arrived on that very Monday. Off we strolled then, down into town to find many of the streets barred with heavy metal grilles and crowds of happy people. We waited at one grille, eagerly anticipating some action but after 15 mins or so, the crowds squeezed through the bars and started heading down what was supposed to be a closed off street. We followed of course!
Though we never got very close to any ''äction'', we did from time to time spot the folorn looking bull being dragged along ON A ROPE in an attempt to goad it into chasing the testesterone-fuelled young men who danced before it. There were a few surges of action and consequent cheers but it all seemed rather tame and we felt a little vouyeristic in witnessing it. However, what we did enjoy was seeing the 80 year old men clinging to window railings and watching the sun creep behind the mountain leaving the village in quiet shade.
<![if !vml]>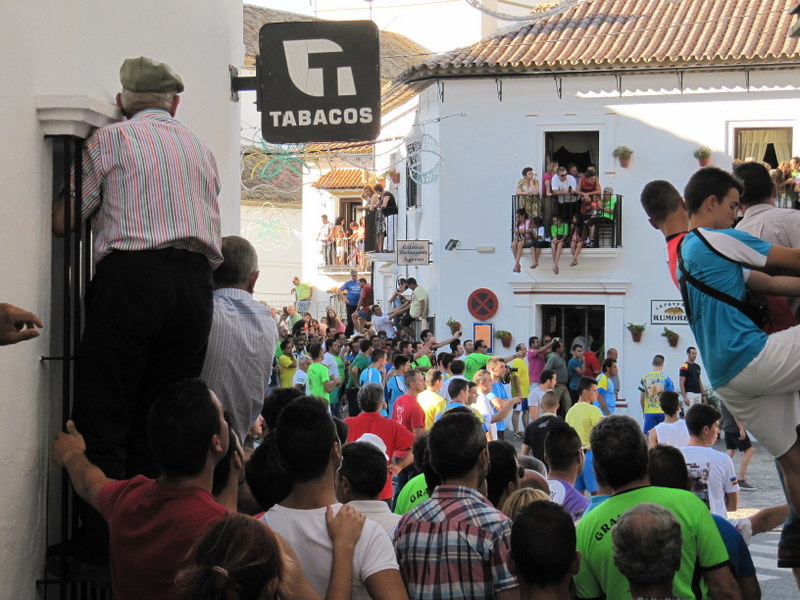 <![endif]>




No sign of the poor bull yet.
The road to Malaga lay ahead.
Malaga wasn't as bad as I'd remembered from having visited over ten years previously. We drove through the heart of the city and along well kept roads bordered by tall shady trees. Of course this was the city heart of Malaga and not the beach resorts so beloved of British youth who are unable to live without fish and chips and Ye Olde Englishe Pub. We hadn't planned to stop but thought it would be worth further exploration if we get a day or so to spare.
Leaving the city by the coast road, rather than the busy highway was actually rather pleasant. The little beach towns we passed through were busy of course but we saw small two or three storey hotels and not the high-risers that we'd expected. By lunchtime we had found a quiet little beach where we were able to park just metres from the clear water. Our hopes to park overnight however were dashed by the police who arrived at around 8.30pm to tell us that we would have to move. No problem officer we'll just finish eating and be on our way. And we were! We found a fairly scenic layby overlooking the ocean just as it fell dark.
The final day of travelling and we were leaving the coast at the messy, industrial town of Motril. A quick stop to shop and stock up and we were on our way, up up and up the windy mountain roads of the Alpujarras. We left behind the buildings and began to enjoy the freshening breeze coming in through the windows. At around 5pm we pulled in to the car-park of Camping Trevelez, www.campingtrevelez.net where we would spend the next 5 weeks ''volunteering'' in exchange for a shady camping pitch and three, filling meals a day.
It was all going to work out very well!